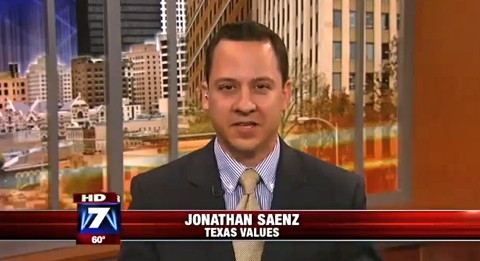 Same-sex marriage is the equivalent of incest or marrying your stepchildren, but gays want to make it illegal for Christians to express opposition to it in any way, according to Texas Values President Jonathan Saenz. 
Saenz, whose ex-wife famously left him for a woman, made the comments recently during his weekly radio show, "Texas Values Report."
"If you start redefining marriage and changing the principles of what marriage is defined in and based on, why would you be able to limit it anyway?" Saenz said. "If it's just about so-called who we love, who someone loves, why would there be any restrictions on it? We currently have restrictions on incest, we currently have restrictions on, you can't marry someone who was one of your stepchildren. I don't think people are aware of that. There are quite a few limitations on marriage laws in our state. And so, if it's just about who you have a loving relationship with, that could be defined as quite a few different things." 
Saenz also addressed the issue of anti-LGBT discrimination and so-called religious freedom: 
"It seems as if the efforts by some are to make it illegal for you to speak or believe or do anything to suggest that you support marriage between one man and one woman," he said. "What we were led to believe before was this was about, 'Let us do what we want in our own bedroom.' The last time I checked, there aren't any laws that restrict people of the same sex from doing what they want in their bedroom. This is not about that issue. There's nothing that restricts them from living with whoever they want to live with. This is about getting the government to not only approve of their lifestyle and their decision on these issues, and getting benefits and taxpayer funding and so on because of this, but also having a weapon in the form of government power in a law to turn around and say, 'Oh, now we're going to punish you because you have a difference of opinion on this even if it's based on a religious belief.' What that means is someone's choice of sexual behavior will now trump the First Amendment of the U.S. Constitution." 
The sad thing is, at least with regard to Saenz's incest comparison, 63 Republican state lawmakers agreed with him last year, when they filed a brief opposing same-sex marriage that compared it to incest and pedophilia. 
Sadder still is the fact that Saenz has joint custody of his three young children with his ex-wife, who is a lesbian. So these are the ideas Saenz is putting into his kids' head about their mother. 
At the risk of feeding Saenz's persecution narrative, at what point do his hateful statements violate the parental rights of his ex-wife? 
Also, any bets on whether Saenz's kids — when they become adults if not sooner — reject their father's bigotry in favor of their mother? 
Listen to clips of Saenz's remarks, AFTER THE JUMP …