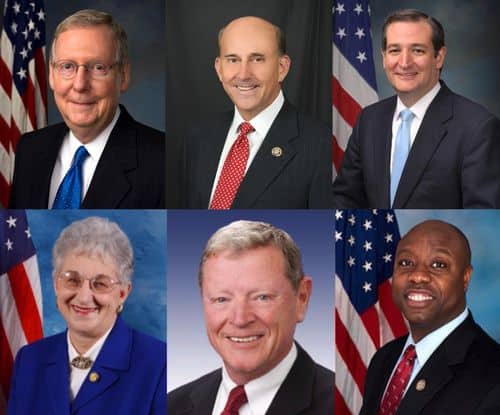 Six U.S. senators and 51 U.S. House members have signed a brief urging the U.S. Supreme Court to uphold state bans on same-sex marriage, the AP reports. 
The senators: Mitch McConnell (R-KY), Ted Cruz (R-TX), Steve Daines (R-MT), James Lankford (R-OK), James Inhofe (R-OK) and Tim Scott (R-SC).
Notable House signers include: Virginia Foxx (R-VA), Louie Gohmert (R-TX), Tim Huelskamp (R-KS), Steve King (R-IA), and Randy Webber (R-TX).
The Washington Blade reports:
At one point, congressional Republicans invoke the U.S. Supreme Court's decision in Roe v. Wade, saying the nationwide ruling on abortion was "widely criticized" for departing from incremental change.
"In this case, it is beyond dispute that a judicially mandated redefinition of marriage would impose sweeping, rather than incremental, change," the brief says. "It would impliedly invalidate the recent, democratically adopted policies of 31 States. Moreover, several States have opted for a more incremental approach, affording to same-sex couples forms of legal recognition other than marriage. Constitutional prudence dictates that this incremental, democratic process should be allowed to continue."
Last month over 300 Republicans, including 23 current and former GOP congressional members, signed a friend-of-the-court brief in support of marriage equality.
The Obama Administration and 211 congressional Democrats have also filed separate briefs asking the Supreme Court to overturn bans on same-sex marriage. 
Read the GOP brief, AFTER THE JUMP…