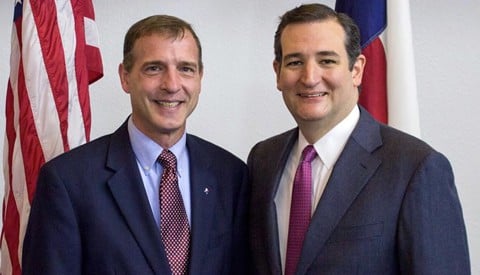 Republican Texas state Rep. Stuart Spitzer (shown above with Sen. Ted Cruz) says he didn't get laid until he was 29 — with his wife.
And while that's admirable — to each his own, right? — the trouble is now Spitzer thinks everyone else should refrain from sex before marriage, too. Not only that, but Spitzer is willing to sacrifice precious HIV and STD prevention dollars to promote his abstinence-only ideology. 
Unfortunately, abstinence education is unrealistic and doesn't work. Case in point: Texas receives the most federal abstinence dollars of any state, but has the third-most HIV/AIDS cases and the fifth-highest teen pregnancy rate. Coincidentally, some of the higher teen pregnancy rates are in Spitzer's district. 
Spitzer, a physician, even admitted on the House floor this week that abstinence education "may not be working well." Nevertheless, he managed to convince his colleagues to divert $3 million from HIV and STD prevention into abstinence education. But that was not before Spitzer took a rather epic grilling from some Democrats. One asked Spitzer whether his wife was the first person he asked to have sex, and another flatly refuted his assertion that STDs can only be contracted through sex, suggesting he may be in need of the prevention education he aims to cut. 
Watch the debate in two parts, AFTER THE JUMP…