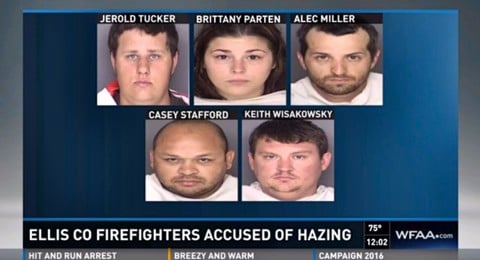 Five volunteer firefighters in a Dallas suburb are charged with aggravated sexual assault after they forcibly inserted a sausage into a new recruit's anus, according to police. 
A sixth person was arrested for videotaping the incident, which occurred in January at a volunteer fire station in Waxahachie, about 30 miles south of Dallas. 
The firefighters initially planned to use a broomstick to assault the victim, but instead decided on a "chorizo" — a Spanish pork sausage.
After the victim came forward on March 31, Texas Rangers arrested Keith Wisakowsky, 26; Casey Stafford, 30; Alec Miller, 28; Blake Tucker, 19; Preston Peyrot; and Brittany Leanne Parten, 23. 
The Dallas Observer reports: 
Wisakowsky retrieved the sausage, and the trainee was bent over the couch while Tucker and Stafford held him down and the sausage was inserted into his anus, the Rangers say. Then Wisakowsky cut the sausage out of the package and attempted to reinsert it, but the sausage broke up.

The trainee told the Rangers he was then released and he crawled into the nearby restroom with "smashed up sausage still between his butt cheeks." He removed the sausage, threw up and took a shower to clean up. While he was showering, he says, someone took his clothes from the restroom. He came out of the restroom in a towel to look for his clothes. When he did, he says, Tucker took his towel. The man covered his genitals with his hands and ran to his truck to get some shorts, he says.
Watch a report from WFAA-TV here.