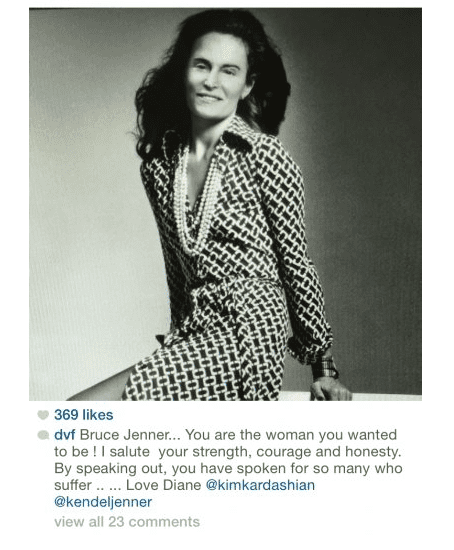 Fashion designer Diane von Furstenberg had an unusual reaction to Bruce Jenner's announcement that he is transgender.
Von Furstenberg shared an Instagram photo to her DVF account in which Jenner's head was photoshopped onto an image of herself in one of her famous wrap dresses, Gossip Cop reports:
Interestingly, the photo Furstenberg used to photoshop Jenner's head on was from a 1974 ad for her clothing line, featuring the tagline, "Feel like a woman –wear a dress."
The image was deleted but not before other users had duplicated it.
Said Von Furstenberg in the tribute:
"Bruce Jenner… You are the woman you wanted to be ! I salute your strength, courage and honesty. By speaking out, you have spoken for so many who suffer.. … Love Diane." The photo then tagged @kimkardashian and @kendeljenner."
Access Hollywood asked DVF for a comment on the photoshopped image, and she replied with a statement:
"I admire Bruce Jenner's strength, courage and honesty and have so much respect [for] him using his voice to speak for people who have none. I wish him nothing but a lifetime of happiness."