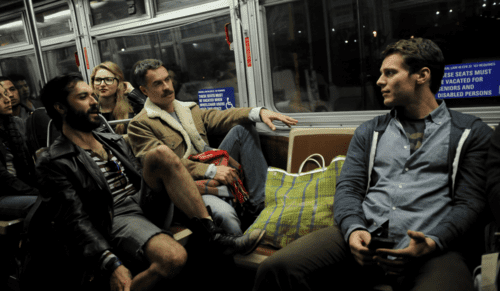 Regardless of how we felt about it we're all still sitting shiva for HBO's Looking, may it rest in peace. Earlier this week one of the show's stars–Frankie Alvarez–shared a little bit of information about the series's ultimate cinematic finale that begins filming this fall and will air sometime next year. Looking's last "episode" as Alvarez describes it will be less like the show's weekly installments and more akin to Andrew Haigh's critically acclaimed Weekend. 
"It's a feature-length film that doesn't adhere to an episodic structure," Alvarez explained to Vulture. "So I think a lot of fans who wanted a longer episode are going to get one long, two-hour episode. I think that will be [a] blessing in a lot of ways: We'll get to close it out the way everyone wants to close it out, and then, hopefully, we'll continue to be friends … supporting each other in future projects."
Looking wouldn't be the first series to wrap things up with a made for TV movie, but the shift in storytelling format could be a boon to the show's finale. For all of the criticism that was leveled at Looking, Weekend was widely praised, despite the two following similar narrative styles. As J. Bryan Lowder wrote for Slate earlier this year, Haigh's slice-of-life storytelling seems to be at its strongest when its longer in form and bookmarked with a clear beginning and an end. Perhaps Looking's finale will finally bring the show's aim into a sharper focus and win over its naysayers.
(h/t Vulture)