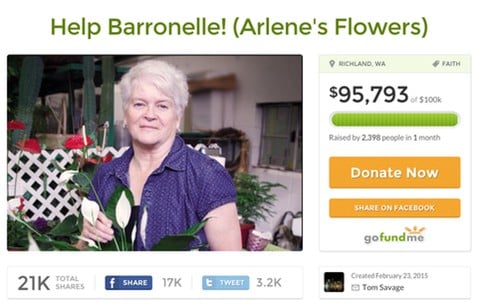 Richland, Washington florist Barronelle Stutzman, who was fined $1000 plus $1 for court costs and fees for her refusal back in 2013 to provide flowers for a longtime customer's wedding to his same-sex partner because of her "relationship with Jesus Christ," is set to receive nearly $100,000 in donations from supporters who launched a GoFundMe campaign.
Stutzman was found to have violated Washington's anti-discrimination and consumer protection laws by refusing to provide flowers because of the customer's sexual orientation. Stutzman had rejected a plea deal in the case, and said taking the offer would have been like Judas betraying Jesus.
In related news, supporters of Indiana's homophobic Memories Pizza, which declared last week that they wouldn't cater a gay wedding, have raised $842,500 for the pizzeria in a similar campaign.
What will they do with all their hate money?