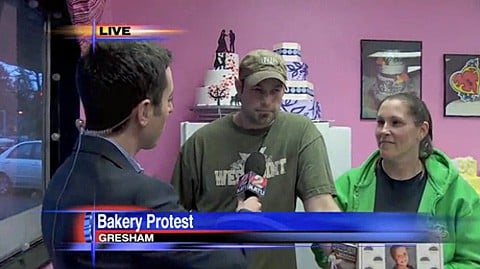 Gresham, Oregon bakery owners Aaron and Melissa Klein may be facing a fine of $135,000 for turning down a lesbian couple's wedding cake request back in January 2013, The Oregonian reports:
Rachel Bowman-Cryer should collect $75,000 and her wife, Laurel Bowman-Cryer, $60,000 from the owners of Sweet Cakes by Melissa, an administrative law judge for the Oregon Bureau of Labor and Industries said in a proposed order released Friday, April 24. […]
Anna Harmon, one of three attorneys representing the Kleins, said, "It's a shocking result and it shows the state's relentless campaign to punish Oregonians who live and work according to their faith."
"The important thing to realize is this," she added, "This is real money that Aaron and Melissa are going to have to pay that otherwise would be used to pay their mortgage and feed their kids."
Lars Larson, the Portland-based talk radio host who broke the story more than two years ago, tweeted about the case Friday. He said, "Aaron and Melissa Klein of Sweet Cakes by Melissa need your help w/ a devastating fine from the state of Oregon," and linked to a fundraising site for the couple.
A "Support Sweet Cakes by Mellissa" GoFundMe page launched Friday quickly raised $110,000 for the bakery before being taken down for violating the site's Terms and Conditions.
Via GoFundMe:
 "After careful review by our team, we have found the "Support Sweet Cakes By Melissa" campaign to be in violation of our Terms and Conditions. The money raised thus far will still be made available for withdrawal. While a different campaign was recently permitted for a pizzeria in Indiana, no laws were violated and the campaign remained live. However, the subjects of the "Support Sweet Cakes By Melissa" campaign have been formally charged by local authorities and found to be in violation of Oregon state law concerning discriminatory acts. Accordingly, the campaign has been disabled."