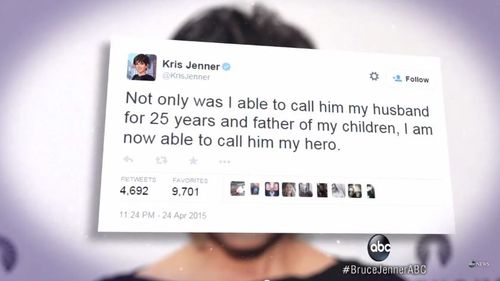 See what everyone is saying about the big reveal, AFTER THE JUMP…
Sending lots of love and support to #BruceJenner and their family tonight. It is always brave to stand in one's truth. Congrats darling.

— Laverne Cox (@Lavernecox) April 25, 2015
❤️ the part of Bruce special educating people on trans terms.This is a new world so we all have new things to learn 💖 never be embarrassed!

— Miley Ray Cyrus (@MileyCyrus) April 25, 2015
It's powerful and brave for anyone to discuss being trans. Hope it inspires people who need to hear more voices like theirs. #BruceJenner

— Jazz Jennings (@iamjazztrans) April 25, 2015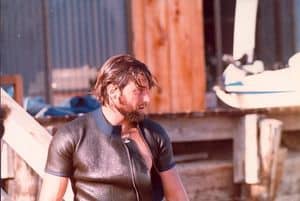 Additionally, Jenner's ex-wife Linda Thompson wrote a lengthy piece over at HuffPost Gay Voices about seeing Jenner on TV while she was still married to Elvis Presley, and her subsequent marriage to Jenner. She writes, in part:
I wouldn't be completely forthcoming if I didn't disclose in this writing that after Bruce and Kris married, there were periods of several years going by without Bruce attempting to contact or visit his sons. No birthday cards or phone calls, no "Merry Christmas," no "Everything OK?" after the big Northridge earthquake. Brandon and Brody will never have those "Hallmark memories" of father-and-son moments. They were saddened by his lack of participation in their lives, and my heart ached for them. When Brandon asked me, "Mom, what kind of a father doesn't come to his son's graduation?" I meekly replied, "Honey, your dad may have been the world's greatest athlete physically, but emotionally, you have to view him in a wheelchair. If he had emotional legs, he'd get up and walk to you, but he just doesn't right now. Just try to understand him, love and forgive him." It was an analogy that seemed to soften the blow at the time, and I do believe that forgiveness is a gift we give ourselves; it's really not even for the person we choose to forgive but for us. We only do harm to ourselves when we harbor resentment and vitriol toward another. I do believe that everything is forgivable; some things are inexcusable but forgivable.
After Brandon and Brody were grown and I did reveal their father's issue, I think the knowledge helped them put the pieces together and explain some of Bruce's dysfunctional parenting. I certainly did my share of rationalizing through it all…
…My hope and my prayer is that humanity has evolved enough and been properly educated to exercise kindness toward those who have struggled or who we may perceive to be "different." Our uniqueness, our individuality, and our life experience molds us into fascinating beings. I hope we can embrace that. I pray we may all challenge ourselves to delve into the deepest resources of our hearts to cultivate an atmosphere of understanding, acceptance, tolerance, and compassion. We are all in this life together.