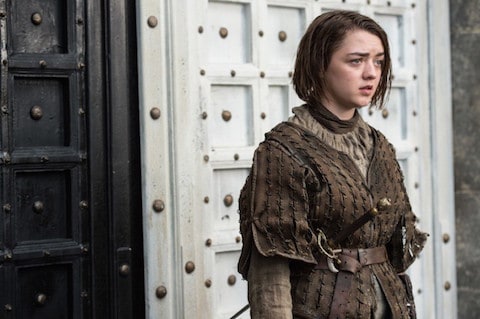 It doesn't take an MFA in fiction to unpack the symbolism in the title for tonight's jam-packed Game of Thrones episode, "The House of Black and White." Leaders all over Westeros and Essos were faced with difficult decisions, and, you guessed it, each decision wasn't nearly so — wait for it — black and white.
So, let's explore those shades of grey and all the other goings on, AFTER THE JUMP …
Meanwhile, In Braavos …
Hooray! It's young Arya Stark, and she's sailing into Braavos, looking up the skirt of the giant Titan statue.
She arrives at a large temple sporting one white door and one black. The black door opens and an old man appears. She asks for Jaqen H'ghar (Tom Wlaschiha), but the old man says, essentially, she must have the wrong giant temple with one white door and one black in Braavos. So Arya has a little huff and takes a seat on the steps, reciting her kill list and eventually falling asleep.
Feeling dejected, she takes to the streets, where she runs into some street roughs (as Arya is wont to do). She pulls out her trusty Needle to defend herself, but the appearance of the old man from earlier frightens her harassers away. She returns with him back to the temple, where he reveals his face as Jaqen H'ghar, except, he explains a man is not Jaqen. He is no one, and that's exactly who Arya must become. Sort of like an anti-makeover.
Meanwhile, Somewhere Outside The Eyrie …
Pod (Daniel Portman) and Brienne (Gwendoline Christie) pop into a pub and who do they see? Why, it's Sansa Stark (Sophie Turner) and Lord Baelish (Aidan Gillen) stopping for some ale and a few apps. So, Brienne saunters over, drops to her knee and gives Sansa her spiel about how she's made a vow to protect the Stark girls and she will give her life for Sansa. She can accept or not.
That's when Baelish interrupts to question Brienne's credentials. Let's see, first she swore to protect Renly (Gethin Anthony). That didn't end well. Then there was Catelyn Stark (Michelle Fairley). Things didn't work out great for her, either. But what does Lady Sansa think? She's not a fan of Brienne since she saw her kneel to the late King Joffrey (Jack Gleeson) at the Purple Wedding.
Once it's clear Sansa's going to have to pass on Brienne's services, it starts to look like Littlefinger will have his men rough Brienne up a bit. Before they can even try to step to the Lady of Tarth, she smacks them about and flees. Baelish's men follow in pursuit, separating Pod and Brienne as they take off on horseback. Brienne loses the men following her, but Pod finds himself standing toe to toe with two of Littlefinger's men. That's when Brienne comes triumphantly galloping in on her horse and she quickly dispenses with the attackers.
She's going to protect Sansa, whether she likes it or not. (An oath from Brienne is a lot like a Verizon contract in that it's impossible to get out of.)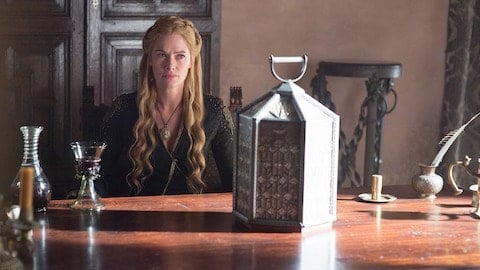 Meanwhile, At King's Landing …
Cersei (Lena Headey) has received some rather troubling mail. No, not a Verizon bill (callbacks!), but a viper holding her daughter Myrcella (Nell Tiger Free)'s necklace. The message is clear: The Lannisters killed Oberyn (Pedro Pascal), and now Cersei's daughter is theirs. That will not stand. Cersei has seen her older son murdered at his wedding, her father killed by her brother, her daughter married off and her other son mesmerized by Margaery (Natalie Dormer). There's no way she's going to let anything happen to Myrcella.
So she calls in her brother/babydaddy, Jaime Lannister (Nikolaj Coster-Waldau) and he agrees to take care of it. He goes for Bronn (Jerome Flynn), who's busy with his very #basic wife-to-be. Jaime crashes their wedding planning to tell him that, change of plans, she's now promised to another, so Bronn's free to join Jaime on a dangerous journey to rescue Myrcella from a whole bunch of people who really hate Jaime Lannister! Lucky!
Cersei will do her part by running all of Westeros like a damn boss. Until her son is old enough to choose his own Hand, she's just gonna rule over the council in his stead. Cool? Everyone cool with that? She starts doling out titles to keep the council happy, but it's her uncle, Kevan (Ian Gelder), who sees what's really happening. He gets all in huff that she has no business trying to rule, and she should remember her place.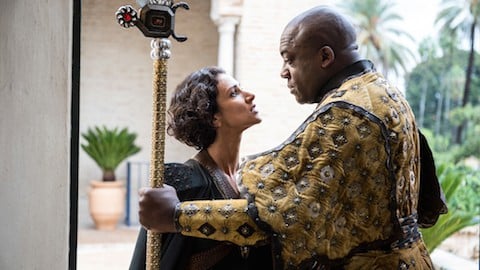 Meanwhile, In Dorne …
Ellaria Sand (Indira Varma) wants some revenge. She goes to the Prince (the brother of her late paramour, Oberyn) to lay out her proposal, which basically boils down to let's do some horrible things to Myrcella and then make sure Cersei knows all about it. The Prince, however, is not all about maiming that young girl's life, so he's going to have to pass.
Meanwhile, En Route to Volantis …
Varys (Conleth Hill) and Tyrion's (Peter Dinklage) excellent adventure continues on. Tyrion is doing his best "Are we there yet? Are we there yet? Are we there yet?" because some traveling cabin fever is setting in. The Spider reminds him that everyone is out to kill him, thanks to Cersei offering a hefty reward for his head. It's set off a bit of a frenzy, with all the hunters in Westeros angling for every dwarf they find.
Meanwhile, At the Wall …
Stannis Baratheon (Stephen Dillane) is making moves. He needs the support of the North, though they only recognize a Stark as a King up there. So Stannis makes Jon Snow (Kit Harrington) a very attractive offer. He'll make Jon a real Stark and then install him as Warden of the North. But! Jon's made a vow to the Night's Watch and he's not going to break it.
It's time to elect a new Lord Commander. It looks like Alliser Thorne (Owen Teale) is going to take it. But, like the Barack Obama of Castle Black, Jon Snow comes in and takes the whole thing following an emotional speech by Sam Tarly (John Bradley-West). The impassioned endorsement has the added bonus of throwing some epic shade over at Janos Slynt (Dominic Carter). Not exactly the kind of thing to endear Snow to the old guard.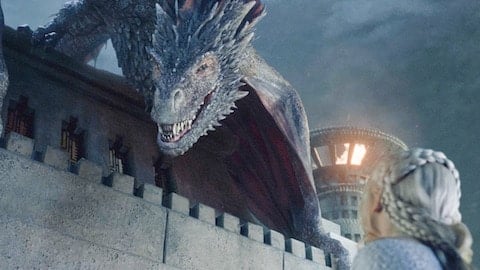 Meanwhile, In Meereen …
Grey Worm (Jacob Anderson) and Daario (Michiel Huisman) find a member of the Sons of the Harpy. Mossador (Reece Noi), a former slave turned adviser to Daenerys (Emilia Clarke), feels they should execute him to send a message, but Daenerys had a bit more due process in mind. Barristan Selmy (Ian McElhinney) convinces Daenerys to give the man a trial instead of answering blood with blood, as her father, the one they call the Mad King, did. However, quicker than a Law & Order cold open, Mossador takes matters into his own hands, killing the prisoner and displaying the body for all to see.
Well, great. You had one job, Mossador, which was don't kill the prisoner. Now Daenerys has to make an example of you. So, she trots Mossador out in front of all Meereen and then has his head cut off. This does not please the crowd. They hiss at the queen and soon a riot breaks out.
Later, Daenerys is having a bit of a sad out on the balcony of her pyramid when who should appear by ol' Drogon. He lets her get just close enough to touch him before flying away. Poor Daenerys can't control her people nor her dragons.
A lot of good stuff tonight. My favorite scenes were Arya's, with Daenerys close behind. I love the parallels between how Daenerys treats her people, and how she treats her dragons. What happens when she forces her will on them? What happens when she can't control them? 
What did you think of the episode?