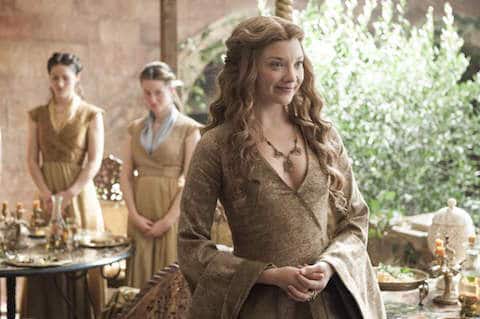 Last night's episode of Game of Thrones, "High Sparrow," may have lacked sword-clashing action, but it more than compensated with some great character moments. The brief exchange between Cersei (Lena Headey) and Margaery (Natalie Dormer) may be one of my favorites on the series so far (category: non-male nudity). 
From a plot pacing point of view, it seems all the best stories are happening in the North. Between a new day for the Night's Watch and the next chapter of Winterfell, tonight's episode continued to lay the groundwork for what seems like an inevitable battle for Winterfell, and, perhaps, vengeance for the Starks.
Let's discuss all the developments in more detail, AFTER THE JUMP …
Meanwhile, in King's Landing …
Oh, happy day. Finally, a wedding that doesn't end in murder. Tommen (Dean-Charles Chapman) and Margaery have made it official. The two take a brief respite from consummating the marriage on their wedding night for the new queen to start sowing some seeds of her own. Now that Tommen's had a taste of adulthood, she just casually drops in how nice it must be that Tommen's mother Cersei will be around forever, constantly keeping her little boy under her watchful eye. Super sexy stuff.
Thus commences the Great Kings Landing Shade War between Queen and Queen Mother. Cersei casts the first read as she walks along, arm-in-arm with Tommen. She says of the new queen: "She smiles quite a lot. Do you think she's intelligent? I can't quite tell." Before she can pat herself on the back for that little dig, Tommen tries to give her the soft sell. Wouldn't she be happier, you know, back at Casterly Rock? She doesn't even like King's Landing, right? Tommen just wants her to be happy. Just preferably happy somewhere else so he can boink his new wife away from his mother's watchful gaze.
Cersei ain't no dummy, though. This is obviously Margaery's influence. With a friends close, enemies closer mentality, she goes to tell the new queen that she's happy to help Margaery any way she can. She interrupts Margaery in the midst of kiki-ing with her ladyfriends, dishing about her sexcapades with the young king like it's brunch in Hell's Kitchen. Once the Queen Mother arrives, the library is open, hunties.
Margaery opens with this beautiful burn: "I wish we had some wine for you. It's a bit early in the day for us." Advantage, Tyrell-Baratheon. Then, she rubs some salt in the wound by reminding Cersei of her plummeting relevance. "Forgive me I haven't been at court for long, I get so confused. What's the proper way to address you now, Queen Mother or Dowager Queen?" Shaaaaaaade. Finally, she wraps up her read with one last dig to remind Cersei that not only is she increasingly less powerful, but she's also getting old. "The Queen Mother will be a Queen Grandmother soon." Cersei weathers all these barbs through gritted teeth, forcing a smile and stomping off.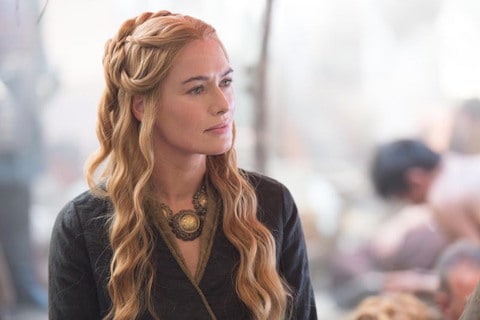 As luck would have it, a new ally for Cersei may be just around the corner. The High Septon is just innocently indulging in some super sacrilegious role play at the local whorehouse when those young upstarts, the Sparrows, come barging in. They smack around Olyvar (Will Tudor) and parade the disgraced Septon naked through the streets before assaulting him.
The High Septon is not exactly thrilled with this treatment, and he goes to Cersei to ask her to have the High Sparrow executed and his disciples jailed. Cersei does visit the High Sparrow, but only to tell him that the High Septon is now rotting in a cell and the two of them — representing Faith and the Crown, the pillars holding up society — need to protect one another. A powerful ally, indeed.
Meanwhile, In Braavos …
Arya (Maisie Williams) has been sweeping the floors of the House of Black and White enough. Just like a typical millennial, she's had enough of her time as an intern and she thinks she's entitled to a promotion to a woman without a face.
Not so fast, young padawan. To become a woman with no face, you need to become no one. And for someone trying to be no one, she's sure got a lot of Arya Stark's stuff. Message received! Arya deletes her Twitter profile, bundles up her stuff and sinks most of it in the sea (except for Needle, which she stashes in some stones near the water). With that taken care of, the man I can only refer to as Jaqen H'ghar (Tom Wlaschiha), promotes her to the corpse washing team, where she, you guessed it, washes a corpse. Way to go, Arya. Keep climbing that Faceless Corporate Ladder.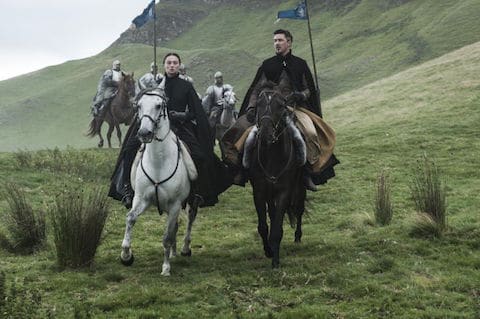 Meanwhile, At Moat Cailin …
Sansa (Sophie Turner) and Baelish (Aidan Gillen) pull over overlooking Moat Cailin. That's when Baelish drops a bit of a bomb on long-suffering Sansa: She's going to marry the son of Roose Bolton (Michael McElhatton), Ramsay (Iwan Rheon), which is terrible news for two reasons. One, Roose is the man responsible for betraying Sansa's brother and mother. And, two, Ramsay is a psychopath. Sansa does not take this news well, but Baelish drops a little real talk on her: Stop being a bystander. This could be her chance to become a real player in all this.
Not too far away, Brienne (Gwendoline Christie) and Podrick (Daniel Portman) are keeping an eye on Sansa and Little Finger. He tells her about how he came into the service of Tyrion (Peter Dinklage) (his last Lord was hanged for stealing a ham), and then she tells him how she ended up with Renly Baratheon. You see, Brienne's father had this idea to dress her up real pretty like and invite all the boys over to fight for her fair hand. So, Brienne gets all dolled up and prances around and all the boys tell her how beautiful she is … except! It's a mean trick! And she's getting She's All That'd, or Carrie'd. While the boys snickered at her expense, beautiful, gay Renly stepped up to dance with her. And, just like the wonderful gay BFF he was destined to be, he told her "Don't let them see your tears. They're nasty little shits, and nasty little shits aren't worth crying over." *Swoon*
Also, Brienne is going to train Podrick to become a knight.
Meanwhile, In Winterfell …
Sansa and Baelish arrive, and Sansa puts on her most sincerely charmed act, dutifully curtsying when she sees the man who conspired to kill her family. Ramsay seems smitten, even promising Baelish that he wouldn't hurt her. His old lady friend, though — you know, the one with whom Ramsay chased another lady through the woods with hounds because she made her jealous — well, she looks none too happy that Sansa is here.
Before Baelish can get too comfy at Winterfell, he receives a message from Cersei to get down to King's Landing right away. Sansa is escorted to her room by a woman who tells her "The North remembers." Seems like a great place to not be a bystander.
Meanwhile, At The Wall …
Jon Snow (Kit Harrington) says thanks, but no thanks to Stannis (Stephen Dillane) about helping him take the North. Plus, he's got his hands full running the Night's Watch. When handing out assignments, ol' Janos Slynt (Dominic Carter) makes a big stink about taking orders from Snow. However, this Jon Snow is not taking anyone's nonsense and so he marches Janos out and cuts off his damn head. Point well made, Snow.
Meanwhile, In Volantis …
Varys (Conleth Hill) and Tyrion's excellent adventure rolls on. Tyrion, however, cannot stand one more moment in that wheelhouse, so he's got to get out. Now. To hell with the risk! When they first stroll into Volantis, they encounter a beautiful red priestess that catches Tyrion's eye. But, what kind of pitstop would it be with Tyrion without a visit to the whorehouse? Among the whores dressed as Daenerys, Tyrion, while trying to stay incogito, is spotted. It's Jorah Mormont (Iain Glen)! And he snatches our favorite Lannister to be taken off to see the queen. But which queen? Will he be taking Tyrion to see his former boss Daenyrs, or will he be cashing in on the reward for delivering Tyrion to Cersei?
What did you think of the episode?