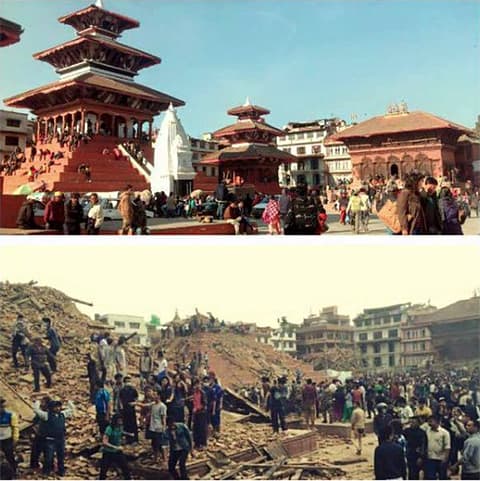 Basantapur Durbar square, before and after the earthquake.
The official death toll from Saturday's massive earthquake in Nepal has risen to more than 3,700 with nearly 7,000 injured as of Monday morning. It is expected to rise sharply and could exceed 15,000.
Dead(3729): Injured(6944): Dead Body Handovered( 3113)

— EarthquakeNepal-MoHA (@NEoCOfficial) April 27, 2015
More bodies being brought into the morgue at Kathmandu's Bir hospital. Most of them left outside because there's no space. #NepalEarthquake

— Sanjoy Majumder (@BBCSanjoyM) April 27, 2015
Many of Nepal's historic sites have been completely destroyed. Makeshift tent cities have sprung up around the country filled with survivors afraid to return home because of aftershocks. The International Committee of the Red Cross has a page filled with hundreds of names of people still unaccounted for.
There was a bit of good news on Monday as Turkish rescue workers in Kathmandu pulled a man alive from the rubble:
Some of the Relief Organizations where you can contribute:
The Nepal Red Cross Society is at the center of relief efforts in the devastated country and help is needed.
Its online donation link is here but is experiencing issues with heavy traffic. It is down as of this posting. the American Red Cross is coordinating efforts with them and you can select Nepal Earthquake Relief on its donation page.
Also collecting funds is the American Jewish Joint Distribution Committee (already they are Partnering with the IDF field hospital in Nepal to provide medical equipment, including two neonatal incubators; Working with UNICEF to secure supplies to meet children's shelter, nutrition, water, and sanitation needs; Mobilizing a rapid assessment team of disaster experts who will arrive in Nepal this week; Collaborating with partners — among them, Tevel B'Tzedek, the All-India Disaster Mitigation Institute, and Sarvodaya — to distribute emergency relief) , the American Jewish World Service, and Americares, which has sent a response team.
Efforts are also underway from CARE. Their relief effort page is here.
Other relief organizations working to get aid to the people and organizations of Nepal are World Vision, The World Food Programme, UNICEF, Shelterbox, Nepal Children's Emergency Relief Fund from Save the Children, Real Medicine Foundation (online or text REALMED to 50555 to make a $10 donation), Plan International, Oxfam International, and Operation USA.
Over the weekend a terrifying video emerged of the avalanche that occurred at Mt. Everest (below). The US State Department reported three US citizens killed. 150 climbers remain stranded above the avalanche but helicopters have begun rescue efforts. At least 61 were injured and many remain missing.
Nepal's Blue Diamond Society is the largest LGBT rights organization in Nepal, founded in 2001. A couple of messages have been received from a leader and a former leader (and national MP) of that organization.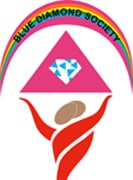 An update on the LGBTI situation in Nepal from Parsu Rai of Blue Diamond Society:
I am in the [Blue Diamond Society] office since the fatal took place and have talked to many staff and there has been continuous flow of information. Some information has been shared from the districts and we are yet to receive from other. If there is any information that needs to be shared then please do so. Please keep communicating. The recent update is as follows:

The buildings of BDS donated by international and national donors are cracked in many parts; walls are almost about the fall. The ground floors of both the building are damaged and have huge cracks that can tumble at any time.

There has been severe damage of houses in Kathmandu, Lalitpur, Bhaktapur, Kavre, Sindulpalchowk and Gorkha, Tahanu, Kaski as well as in Siraaha and many community members might have lost their houses.

Due to fear, most of the community people are staying outside in the tent and have difficulties in accessing different facilities as there has been no support from outsiders. The daily wages earner has no means to sustain their livelihood. One of the community members have been out of contact since the fatal earthquake occur.

Some members have their houses damages (Gorka meti, Chari, Halasta from sakhu, Budi Meti from Sakhau Thimi in Sakhu), Kritipur, Kavrepalanchowk, Thimi Gorkha, Siraha, Lalitpur and janakpur and the information is yet to come as there is no means of communication and electricity is completely lost.

We will be updating as soon as we get into access to internet and other means of communication with electricity.

Regards
Parsu Ram Rai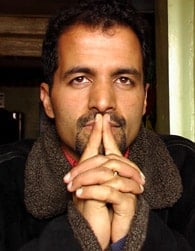 A message from gay former Nepali MP Sunil Pant:
Blue Diamond Society's main building has a crack, as told by staff; they feel its not a major crack but will need repair. Blue Diamond Society's care home for HIV positive LGBTIs also has a crack and need good repair. One staff of Blue Diamond Society who works for care support centre, JYOTI PRAKASH, is missing so far.
Many TGs reported having problems of accessing toilets, has been a big problem as they spending nights in the open in Kathmandu. Three TGs from Gorkha said their houses are completely destroyed. As Gorkha and Lumjung are hardest hit districts, my ancestral home is damaged too. The current president, executive director and all other staff at BDS are ok. Phone lines and networks are non functional mostly so have not been able to reach out everyone. In Makwanpur districts also LGBTIs spending nights in the open. LGBTIs from Bhaktapur and Patan are also spending nights in the open, every TG expressed problems of accessing toilet… Food, blankets are not reaching like many others have not been reached in in Nepal. Like many women who are in need, lesbians who have to spend nights out, also finding difficulty to access toilets. I am outside of Nepal since a while, this update is through phone calls or emails with those LGBTIs in Nepal that I could get in touch. Will keep you update as I hear more. There is a need for help with relief and some rehabilitation to LGBTIs in Nepal.

Sunil babu Pant