Kansas files brief urging dismissal of lawsuit challenging gay marriage ban.

Gray whale tracked over 14,000 mile migration from Russia to Mexico: "Varvara's journey surpassed a record listed on the Guinness Worlds Records website. It said the previous record was set by a humpback whale that swam a mere 10,190-mile round trip between the 'warm breeding waters near the equator and the colder food-rich waters of the Arctic and Antarctic regions.'

Yes, the Dennis Quaid freakout was a fake.

Clues to autism found in sperm: "In analyzing the DNA from the sperm of fathers of children exhibiting early signs of autism, researchers identified distinct epigenetic tags that may cause or contribute to the condition. Epigenetic tags are the instructions embedded in the genome; they help influence gene expression and regulate gene activity."

HPV vaccine cost-effective for boys, says study. "A number of public health professionals have suggested the vaccine might also be administered to boys, namely to help reduce the risk of oropharyngeal cancer. Tumors leading to this type of cancer, which develops in the back of the throat and affects the tonsils and the base of the tongue, can be caused by certain strains of HPV."

Janelle Monae releases "Yoga" video.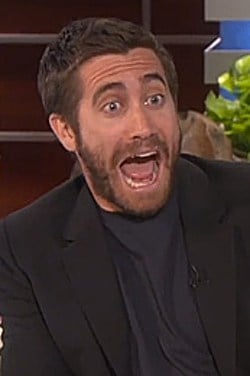 Suddenly Seymour:

Jake Gyllenhaal to star in revival of Little Shop of Horrors.

Wild coyote captured in NYC's Chelsea neighborhood: "He seemed panicked. He was running around. He looked like a big dog, a lost dog. He was knee-high, I would say," said Edrice Jean Baptiste, 26, who works in the soup kitchen. "I was like, 'Oh my, God! Where did he come from? We're in the middle of the city!'"

'Gyrocopter' lands on west front of U.S. Capitol, pilot arrested. "It appears that the man contacted a Tampa Bay Times reporter in advance of his flight. His aim: To draw attention to the issue of campaign finance reform, according to the newspaper."

Arkansas governor selects three justices for gay marriage case: "Republican Gov. Asa Hutchinson named former Justice Betty Dickey, Circuit Judge and former state Sen. Shawn Womack and Searcy attorney Brett Watson as special justices to a case that centers on which Supreme Court members can participate in the challenge to Arkansas' gay marriage ban. The court has said the dispute over whether a newly elected justice or a special justice appointed last year can participate must be resolved before the gay marriage case can proceed."

College runner comes out as gay by writing #BETRUE on his spikes.

Tom Hardy hits London looking head-shaven and rugged.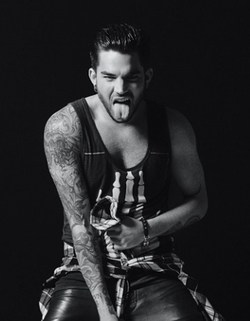 Adam Lambert covers Notion magazine.

SCOTUS Justice Anthony Kennedy's mentor influenced his beliefs: "Schaber never married and was widely believed to be gay, according to accounts from a dozen people who worked for him or were active in Sacramento's political and legal communities."

Who is Fancy? "Fancy was once a a gay, small-town Arkansas boy who dropped out of high school due to bullying, and eventually Fancy moved to Nashville to pursue music. He earned his affectionate nickname while working at Forever 21, where, he says, his story really began."

L.A. Times on George Takei: "Takei is now something of a phenomenon online, regularly unleashing his penchant for puns and passion for social justice on Twitter. More than 1.6 million people have seen his YouTube short "Fifty Shades of Takei": "Oh myyyy," the actor exclaims, turning the pages of E.L. James' racy book. His "Happy Dance" to LMFAO's "Sexy and I Know It" has gotten more than a million views on the channel. Helming the USS Enterprise on "Star Trek" may have made Takei globally famous, but his quirky, sometimes-satiric presence on the Internet has made him current."