Trans woman brutalized by Brazilian police.

Xavier Dolan lines up next film, It's Only the End of the World.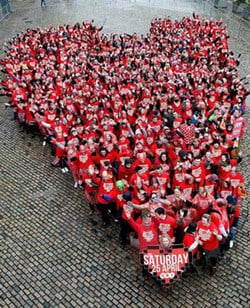 Dublin sets world record for largest human "love heart". "More than 500 people took part in the event to raise awareness for a Yes vote in next month's Marriage Equality referendum."

Colin Farrell is very, very single.

Our film critic Nathaniel Rogers looks at the Tony Award nominations. Also, don't miss our theatre critic Naveen's post, earlier. And the full list.

Michael Fassbender is looking regal in Macbeth.

California Republican Carl DeMaio eloped: "As you may have heard, over the weekend Johnathan Hale and I got married! We opted for a small ceremony with our immediate family there to support us."

Facebook to match donations to Nepal earthquake relief efforts. "Starting today, people on Facebook will see a message at the top of News Feed with an option to donate to International Medical Corps, which has emergency response teams operating mobile medical units to deliver critically needed medical care and medicines to the regions hardest hit by the earthquake. To do this, we are using our Donate feature, where people can donate directly to IMC to support their relief efforts on the ground. Facebook will match every dollar donated up to $2 million."

Patrick Schwarzenegger puts on a gun show.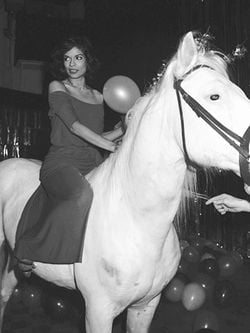 Bianca Jagger says she didn't ride in to Studio 54 on a horse.

NASA Messenger probe set to crash into Mercury on Thursday: "Messenger's path will intersect with the surface of the planet. The impact of the 1,100-pound spacecraft at 8,750 miles per hour is expected to gouge a crater some 50 feet wide."

LGBT rights victory handed down in Kenya: "The High Court of Kenya ruled on Friday that the board overseeing NGOs cannot bar an LGBT rights group from formally organizing, a ruling that may create precedent to win protections for LGBT people under the East African country's constitution."

Apple earnings surge: "In total, Apple reported a profit for its fiscal second quarter of $13.6 billion, up from $10.2 billion in the period a year ago. Revenue climbed 27 percent, to $58 billion, from $45.6 billion last year, above the $56.1 billion projected by Wall Street, according to a survey of analysts by Thomson Reuters."

The paparazzi keeps us apprised of Zac Efron's push-up workout.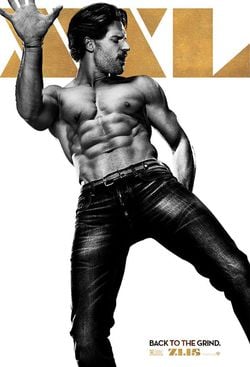 Joe Manganiello gets his own Magic Mike XXL poster.

Deflated: Apple bans fart apps from the Apple Watch. Developers receive notice: "We noticed that your Apple Watch app is primarily a fart app. We do not accept fart apps on Apple Watch."

Empire State Building to be virtual art museum on Friday: "A first-time thing for the Empire State Building, the "show" will coincide with the opening day of the new Whitney Museum as well as the building's 84th anniversary. There will be twelve "representations" of artworks displayed on the building in a seemingly complicated—but impressive!—art show of sorts."

Loretta Lynch: "We are all just here for a time—whether in this building or even on this earth. But the values we hold dear will live on long after we have left this stage. Our responsibility, while we are here, is to breathe life into them; to imbue them with the strength of our convictions and the weight of our efforts."

Good-looking men are discriminated against, according to this article: "This is because attractive men are often seen as more competent, and so those who will be working alongside them are unlikely to want increased competition."