North Dakota this week killed an LGBT non-discrimination bill for the third time in six years, INForum reports: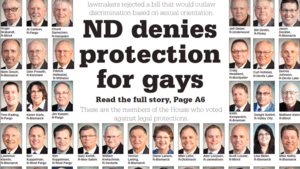 The House defeated the public accommodations division 30-61, with three members absent or not voting. The second division failed 35-56, defeating the bill as a whole.
House lawmakers spent about 90 minutes debating Senate Bill 2279, which passed the Senate 25-22 in February and would have added sexual orientation to state law that already protects against discrimination based on race, color, religion, sex, national origin, age, physical or mental disability or status with respect to marriage or public assistance. Complaints would have been investigated by the state Department of Labor and Human Rights.
…A dozen Republicans joined Democrats in voting for the bipartisan bill, including Rep. Thomas Beadle, R-Fargo, a bill sponsor. He said many large employers and prominent businesspeople in North Dakota backed the legislation, fearing its defeat would send a message that the nation's fastest-growing state "is only open to some."
"And while we can see the backlash in Indiana, the mere perception of LGBT discrimination will have negative consequences for our state," he said.