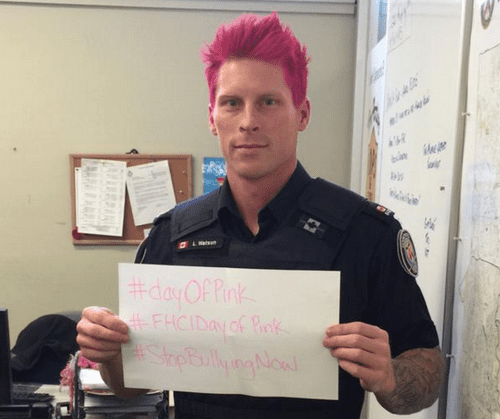 Toronto police officer Luke Watson's desire to see an end to anti-LGBTQ bullying burns with a hot pink intensity. To mark yesterday's Day of Pink, an international day against "bullying, discrimination, homophobia, transphobia, and transmisogyny across the world," Watson dyed his hair pink and pledged to keep it that way for an entire week if the Twitter photo of his new 'do was retweeted 1,000 times.
The photo has since been retweeted over 3000 times.
Hey #Twitter if This gets a 1000 RT's @pc8430 will keep the hair 4 a week #DayofPink #stopbullyingnow @TorontoPolice pic.twitter.com/2TGhGykfXe

— Ryan Willmer (@RyanCP23) April 8, 2015
Global News reports that Toronto Mayor John Tory and Ontario Premier Kathleen Wynne also took part in the Day of Pink, albeit without any body modifications. 
More on the day via the official website:

The International Day of Pink was started in Nova Scotia when 2 straight high school students saw a gay student wearing a pink shirt being bullied. The 2 students intervened, but wanted to do more to prevent homophobic & transphobic bullying. They decided to purchase pink shirts, and a few days later got everyone at school to arrive wearing pink, standing in solidarity. The result was that an entire school took a stand and began working together to prevent homophobic & transphobic bullying.