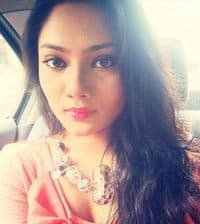 According to a local police report Disha Ganguly, a popular Bengali television actress, committed suicide after months of being pressured to break up with her girlfriend, another Indian TV star. It is unclear whether Ganguly openly identified as a queer woman, but she was also romantically tied to Vivan Ghosh, a man that Ganguly's parents insist that she was married to.
"A few months back, this actress friend of Ganguly, started staying at her apartment," police authorities explained. "Soon, Ganguly's mother arrived from Nairobi and objected to their relationship. Her mother even got her friend to move out of the apartment."
Those close to Ganguly have stated that her girlfriend and Ghosh had been seen fighting in the days prior to Ganguly's suicide, though the exact events that led to it are unclear. Before killing herself Ganguly made sure to transfer Rs.50,000 into a bank account that she shared with her girlfriend.
In the hours after news of Ganguly's death broke, her girlfriend also attempted to take her own life by throwing herself onto the train tracks at Howrah, the largest train station in India. The woman was saved and is currently being treated for minor injuries at a nearby hospital.