Let's cut to the chase: You should definitely be watching Cucumber and Banana, the two new series airing on Logo following RuPaul's Drag Race. The pair of intertwined shows are must-see TV not only because they both bring a glut of diverse LGBT characters to television, but also because they feature some of the richest, most rewarding storytelling you'll find on TV — gay, straight or otherwise.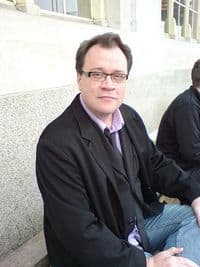 Cucumber focuses on a middle-aged gay man in Manchester, while Banana is an anthology that showcases a variety of different stories featuring LGBT youth.  Characters cross over from each show into the other and plots overlap, but it's possible to watch just one series without the other and still keep up.
Not that you'd want to miss out on either series, because they are both brilliant. Even as someone who grew to love Looking, it's hard not to compare these two new shows about the lives of gay men with the recently canceled HBO dramedy. Although the series was not created as some sort of response to all the backlash Looking received, it is pretty remarkable how deftly Cucumber and Banana avoid many of the same pitfalls. First off, both new series feature a diverse cast of varying ages, gender identities, races, and sexualities. The two-show structure (and Banana's anthology format) helps, as it allows more narrative space to explore an array of characters while ensuring the relationships all feel meaningful and true.
The other big complaint that plagued Looking's two beautiful, but understated seasons was that they were boring. That's definitely not the case here. Both Cucumber and Banana are wildly entertaining and inventive, subjecting their characters to emotional highs and lows that range from the strikingly relatable to the hilariously absurd. These are gay characters, but their sexual identities are the least interesting things about them. That's not to say they're straight-washed — these shows are both still wonderfully and wickedly infused with queer culture and sensibilities — but it's the unexpected extremes to which Cucumber and Banana go that will stay with you after the credits roll. (Episode two of Banana is particularly powerful.)
The most stunning thing is how effortless it all seems. That's likely thanks to the brilliant Russell T Davies (above, right), the veteran TV writer behind Cucumber and Banana, as well as the groundbreaking series Queer As Folk and the popular reboot of Doctor Who.
We had the chance to speak with Davies about his new shows and the state of gay representation on TV. See what he had to say, AFTER THE JUMP …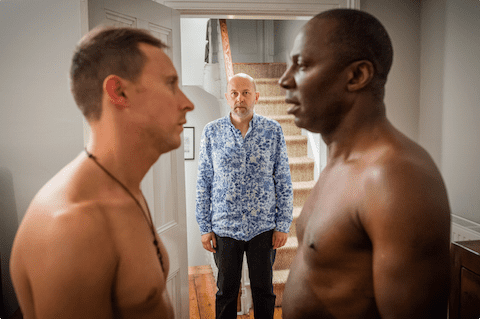 Towleroad: This is obviously not your first project dealing with gay characters and gay stories. Do you feel any added pressure to represent the community?
Russell T Davies: It's always a problem. We are a minority, and we do feel underrepresented, because we are underrepresented. Frankly, we continue to be underrepresented even when representation does pop up. No one ever likes looking at a photograph of themselves, and no one ever likes hearing their own voice played back. I think that's why actors go mad. We react quite badly when we see ourselves. So I think that's the thing with representation, sometimes we can see a pin-sharp, razor-sharp representation of ourselves, and we react very badly. We say, 'That's not me,' like you would at a photograph. So it's a funny old process, that representation thing. Nonetheless, we are a minority, and we have to fight for that representation.
I know it's a very important thing. I don't worry about it too much. I've done it an awful lot because I've been writing gay characters for over 25 years. It's not just Queer As Folk and Cucumber. I've been writing in British soap operas when I started out, I was doing lesbian vicars, I've done gay kids. In 1996, I did a HIV story in a children's drama on network television in Britain. So I kind of feel like I've done my dues. A
lso, particularly with Banana this time around, in terms of representation, we've got trans stories, we've got lesbian stories, we've got a 62-year-old lesbian in there, we're good with our lesbian mother and daughter. There's a wide range of characters. I sleep at night, that's what I'm saying. I could do more. I will do more. But I do sleep at night, because I think, when the gay god come to take my credits — I'm just wondering who the gay god is now. Elton John, probably — I will stand there quite proud of what I've achieved.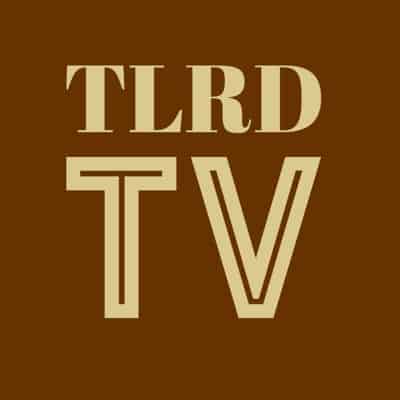 TR: A lot of shows recently, like Looking and Please Like Me, have been lauded for being so realistic, but I feel like Cucumber and Banana have a fair amount of absurdity and irreverence too. How do you balance these incredibly well-rounded and relatable characters with some of the more surreal, irreverent moments?
RTD: I think it just depends on your version of realism. I love those shows you mentioned. I think it depends on the writers, because I think there's a danger that realism is seen as quite level, quite dull sometimes, that is reality. You should come meet my family. You should come meet my aunties. You should meet my sister. You should meet my mother. They're all mad. They're loud, and they're extreme, and the stuff they get up to, I could not possibly begin to put on screen. So it just depends on your view of reality. I do love those shows, because you get the more sober view of reality, but I am maintaining that my reality here is a lot more vivid. And so is everyone's I think.
Your family is full of mad people. Your relationships are full of stalkers and nutters and gods and demigods and devils. In our lives, we've all had mad adventures and silly things that happen. Even if you never actually leave the front room, even if you just sit online, you could fall in love with someone, you could stalk someone, you could hate someone … That's life. I just think it depends on your view of life. Maybe my life is more exciting than other people's [laughs]. I'm laughing as I say that because I know it isn't. Life is absurd. Everyone's life is absurd.
Who doesn't at the end of the day, come home, put down their briefcase, make a cup of tea and say, 'My God, life is absurd.' Everyone does. That's our view of the world. That's really, really normal. And I love that. I love writing that stuff.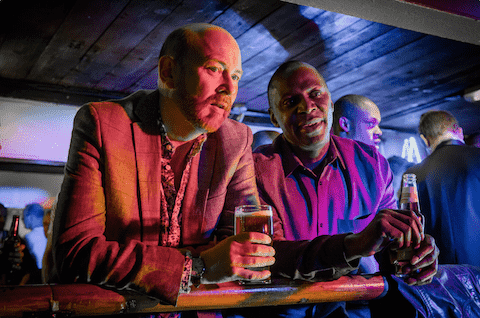 TR: You mentioned Queer As Folk earlier, and both that series as well as Cucumber and Banana focused on the gay community. But it's a very different time, and society has changed so rapidly between these projects. How has it been different for you working on these shows?
RTD: The technology has changed, everyone's got a smartphone in their hand. I'm writing about middle-aged gay men here, while I was writing about younger gay men then. But, you know what? It doesn't matter how much technology speeds up, it doesn't matter how many laws are passed in our favor. It doesn't matter how much equality we're given. We still feel the same things. In writing this, I didn't uncover a brand new emotion that didn't exist in 1999. Because our problems are quite universal, and our loves and our hopes, we share those with straight people. And those have stayed the same in the human race for thousands of years.
I think in some ways, Cucumber and Banana are a step forward in that there are no coming out stories in them. I think that's me, having written 57 coming out stories, wanting to take a step and move on, and say let's find new stories. That's not me saying that the coming out story doesn't exist in real life, because no matter how much we celebrate equality, you know and I know that thousands, if not millions of lives are still lived in terror and silence and fear, that people are still locked in the closet at any age, in any country.
So, I know that still exists, but nonetheless, with a lot of other shows telling coming out stories, I felt free to kind of move on and say there's new stuff to tell. So that's probably the biggest difference. I'm not saying the world is post-coming out, but my storytelling right now in 2015 is post-coming out.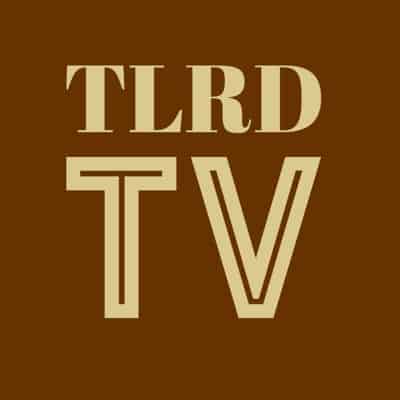 TR: What we're seeing on Logo is an edited version than what was originally broadcasted in the UK. Can you talk a little about what's changed between the two versions?
RTD: There's nothing to worry about in terms of that. There's different broadcast standards, and some of the swearing has to be dropped out and some of the nudity has to be blurred. Here in Manchester, at Red Productions, we handled that ourselves. We talked about it with Logo, they're very happy for us to do it. This is the version we're very happy with. It's pretty much 10 seconds in total across the whole thing, it's nothing. If a drama depends on nudity and swearing, then it probably wasn't a very good drama in the first place. It's fine. You haven't lost a thing. Nothing has been lost, and the story's intact. Everything is still the version that I wanted it to be.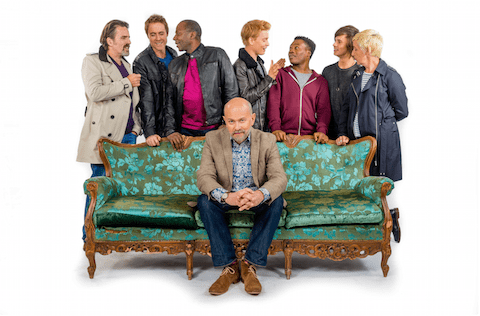 TR: What would you say is the biggest difference between the state of gay storytelling on television in the UK versus in America?
RTD: I think it swings to and fro. In one year, you could think the United States is ahead, and the next you kind of think Britain is ahead. I know you have stuff like Empire at the moment with that gay character causing huge excitement. I love watching How To Get Away With Murder. I love that show, and that's a very successful out gay character. There's nothing kind of like that on primetime television in Britain at the moment, but there will be. I think it kind of see-saws. And I think the see-saw tips one way to the other. I think both are actually quite a healthy creative situation at the moment. We have a lot of gay characters, a lot of lesbian characters. Someone will temper that by saying there are not enough. There could always be more, but I find very often the complaints about there not being enough gay characters on television are made by people who don't watch television. There are 27 characters they just haven't seen, because they'd rather read a book. That's fine. Go and read your fucking books. Don't complain about my television, thank you very much. It's actually quite a good state, and I will work hard to keep making it better.
Are you tuning in to Cucumber and Banana? What did you think of last night's premiere?
[This interview has been edited and condensed.]
Russell T Davies photo – Tony Hassall – Wikimedia Commons.