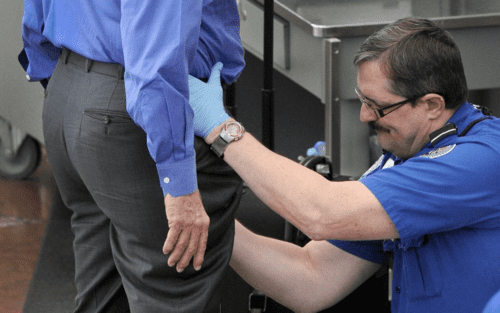 Two TSA agents posted at Denver International Airport have been fired after it was discovered that they had worked out a scheme allowing one of the agents to grope unsuspecting male passengers as they passed through security checkpoints. TSA authorities were first alerted to the situation earlier this year thanks to an anonymous tip. An investigation of the two agents revealed that a clever–though troubling–system where the male agent would identify male passengers he found attractive at which point his female accomplice would flag them to be pulled aside for pat-down inspections.
During its investigation of the pair, TSA officials observed the male agent patting down unwitting passengers' groins and buttocks with his bare hands, which is strictly forbidden according to TSA regulations. Both of the agents, whose names have not been released to the public, have been fired from their jobs. According to a third TSA employee from the same airport, however, their "game" wasn't exactly a well kept secret.
"There was more people that knew it was going on," another employee, who asked to remain anonymous, explained to a local CBS affiliate. "They made it seem like a game, they were having fun with it…I had heard them saying it was just a game. It's a really sick game to play."
The female agent who confessed to her participation in the scheme admitted to having lure at least ten passengers into the ploy.
"These alleged acts are egregious and intolerable," TSA officials asserted in a public statement. "TSA has removed two officers from the agency."
While it's been established that numerous passengers were knowingly groped by TSA employees, the Denver District Attorney's office finds itself in an interesting position regarding what to do with them. As it stands now none of the men who were touched have come forward expressing any concerns. It's unclear whether any of the men knew what was being done to them. The one man that the TSA investigation observed being touched hasn't reached out to the TSA and so the organization isn't technically able to file any type of charges.