This weekly travel column is brought to you by ManAboutWorld, an immersive digital gay travel magazine for iOS and Android devices from Billy Kolber, Ed Salvato, Kenny Porpora, and nearly 75 Global Correspondents.
Cambodia and Laos sit between Thailand and Vietnam and are among the least developed countries in Southeast Asia. Tourism is a bright spot in both countries, and based on our short exploration, it is easy to see why. Despite the difficult history and circumstances, people greet visitors with enormous smiles and warmth. Cambodia's magnificent Angkor Wat complex, rediscovered in the 1850s, is a bucket list draw for world travelers. It has brought about tourism infrastructure development, and some of the same free-wheeling tourist economy trappings — good and bad — seen in more developed tourist economies. By comparison, Laos is most notable for its relative lack of development, but here too, the power of tourist spending is changing the landscape — literally and quickly.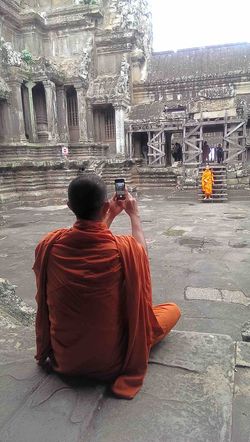 We visited the three most accessible destinations in the area: Siem Reap and Phnom Penh in Cambodia, and Luang Prabang in Laos. All three are easily reached, with accommodations for luxury travelers, backpackers, and everything in between. Siem Reap's main draw is its temples, but lots of other cultural, culinary, spa, shopping, entertainment and adventure activities have sprung up. As Cambodia's capital city, Phnom Penh offers a striking portrait of resilience, having been a jewel of French Colonialism, through the devastation of the Khmer Rouge, to a modern metropolis. Luang Prabang doesn't have the gay hotels and nightlife of Cambodia, but charms visitors with its quiet yet vibrant temple and village life.
There is so much to see in both countries and if you travel this far you're probably also going to see Thailand and possibly Vietnam. But as a little teaser of things we love in Cambodia and Laos, read on. To get the full monty on Cambodia, Laos and Thailand, get ManAboutWorld Magazine on iTunes (iOS) or Google Play (Android). There are many tour operators who can help arrange a tour of these beautiful places, including one of our favorites: ManAboutWorld Gay Tour Operator Editor's Choice Winner Out Adventures. 
1. Angkor Wat (Siem Reap): Angkor Wat, literally "city temple," is an architectural wonder that was almost lost to encroaching jungles until it was rediscovered by French explorers in the late 19th century. Today the temple is Cambodia's most popular attraction, with something close to four million visitors last year. The photo below has been dubbed the Lara Croft or Angelina Jolie Temple by visitors who note it was one of the filming locations of the famous adventure movie she filmed there.
2. Explore Siem Reap: Siem Reap is best known for the temples but it is one of the fastest growing cities in the world and offers beautiful hotels, including a new gay boutique hotel called Men's Resort & Spa, excellent dining and a wild and uninhibited nightlife, including some gay-specific options.
3. Tuol Sleng Genocide Museum (Phnom Penh): It has a sad and haunting name, but this museum provides crucial context to this country's current state and a stunning contrast to the warmth and happiness of the people you meet.
4. Sunset Cocktail Dinner Cruise (Phnom Penh): To lighten the mood after must-see number 3, reserve a romantic dinner cruise  on the Mekong River on Phocea Mekong cruises; they also offer full day trips leaving from either Phnom Penh or Siem Reap.
5. Belmond La Resistance Phau Vao (Luang Prabang): Laos is a charming, relaxed country that still feels relatively undiscovered. You'll feel a grand sense of exploration, like you've stumbled into a land time forgot, and it becomes yours while you're there. At the end of a day of hiking and exploring the countryside and Luang Prabang you'll want some luxury and pampering. The Belmond property is the perfect spot.
For even more insider recommendations in Cambodia and Laos and for other destinations around the globe and in the U.S., get ManAboutWorld Magazine on iTunes (iOS) or Google Play (Android). 
ManAboutWorld is now on the iPhone! Android coming soon. To download for the iPhone, click HERE.
Image credits: Top and Bottom (Versatile? ;): Mark Vogler; Right: Billy Kolber.