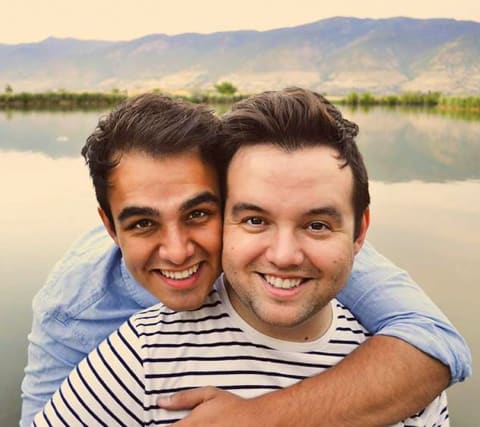 A gay Mormon has penned a powerful response to his bishop after the LDS church threatened to excommunicate him for being gay. 
Utah native Taylor Knuth-Bishop (above left) and his husband, Sean Knuth-Bishop, were among 33 couples who married at the 2014 Grammy Awards during a performance of "Same Love" by Macklemore.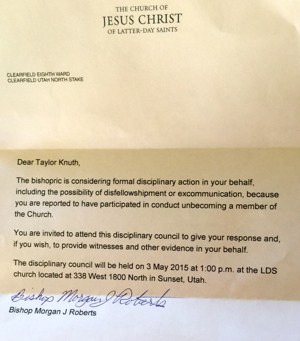 Last month Taylor Knuth-Bishop, who now lives in New York City, received a letter from his Mormon bishop back in Utah, Morgan J. Roberts, according to the Mormon Stories Podcast: 
"The bishopric is considering formal disciplinary action in your behalf, including the possibility of disfellowshipment or excommunication, because you are reported to have participated in conduct unbecoming a member of the church," Roberts wrote. 
On the blog he shares with his husband, Knuth-Bishop said he also received a phone call from Bishop Roberts: 
"On the telephone Bishop Roberts repeatedly used the word 'Choice' to describe his reason in calling the disciplinary council hearing, and that this choice could potentially lead to my disfellowshipment or excommunication from the Church. I have CHOSEN to marry Sean Bishop. It was my CHOICE to live the lifestyle I live. That was among the vocabulary used to describe my situation." 
Knuth-Bishop posted a powerful response to Bishop Roberts, in which he talks about his love for theater and his relationship with his husband — whom he calls "the greatest thing that ever happened to me." Knuth-Bishop also tells Roberts how his family has been supportive, and states that while he's no longer a practicing Mormon, he still believes in the church's "foundational teachings of love, charity, kindness, hope, and faith–among others."
"I am not afraid of who I am or who I love in the eyes of God as I see them, nor will I deny that love. To me, Jesus preached love and acceptance–not exclusivity, perfection, judgement, or fear-mongering.

"The Mormon faith has been wrong on countless occasions throughout their rocky history, both in revelations and prophecies through leadership of the church and within their own doctrine. An occasion very similar to my own would be the decision to allow people of African decent the priesthood in 1978 and allowing inter-racial marriage within the temple. Something that before that time, was unheard of- even sinful. … 

"I, along with my entire family and close friends, have  CHOSEN to stand on the side of love, equality, acceptance and celebration."
Knuth-Bishop goes on to note that Utah leads the nation in teen suicide, which is the No. 1 cause of death for teens and young adults in the state, and that youth are four times more likely to take their own lives if family, friends or religious institutions reject or devalue them:
"Having a family who did not reject me, and having Sean by my side throughout my 'coming out' process are the only reasons I am still on this Earth. Too many are not as fortunate as I am in this regard, and TOO MANY choose to take their own lives because of men like you and processes like this disciplinary council. TOO MANY feel excluded, rejected and devalued because of comments made in passing in General Conference, from their own family, and from men like you. TOO MANY take a blade to their wrists, bullet to their brains, and pills down their throats to end their suffering because of something that they CANNOT control: a desire to live a happy lifestyle with someone of their own gender or sex. … 

"Shame on you for calling into question a relationship that is the cornerstone of my life–that I hold above all others. Shame on you for telling me that my 'behavior' is 'unbecoming of a member the Church.' Shame on you for not honoring the promises that you made to your congregations to love, value, and respect each member. Shame on you for being so far away from the true lessons of Christ. And finally, shame on you for attacking me for engaging in a relationship that does you and the members of your congregation no harm whatsoever." 
Read Knuth-Bishop's full letter to Roberts here. 
Watch Sean Knuth-Bishop's remarkable marriage proposal to his husband, as well as their Grammy Awards wedding ceremony, AFTER THE JUMP …