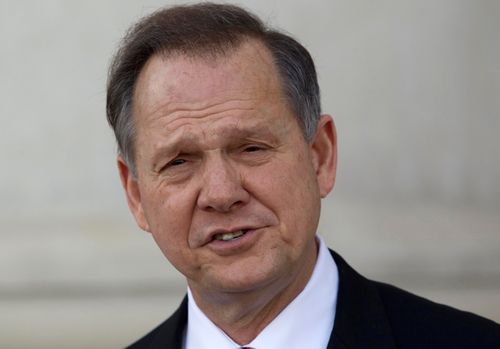 If Alabama Chief Justice Roy Moore could have his way, Ruth Bader Ginsburg would be facing impeachment for her decision to officiate a same-sex marriage ahead of the Supreme Court's upcoming ruling that will determine the fate of marriage equality in the U.S. Technically speaking, Ginsburg's role as the officiator of a same sex wedding makes her the second justice (along with Kagan) to give her tacit support of marriage equality. Speaking to FRC hate leader Tony Perkins, Moore insisted that Ginsburg's implicit support of gay marriage was proof enough of an inappropriate lack of professional objectivity on her part.
"Now she's commenting on a case which is before her, and under judicial ethics of federal judges, she can't do that," he exclaimed. "[Ginsburg] is doing it in the face of plain evidence that she's violating the ethical rules for federal judges… If Congress is going to let these justices disobey the Constitution they're sworn to uphold, then Congress has a check and a balance. It's called impeachment."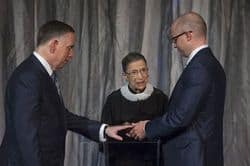 As Think Progress points out, however, Ginsburg was well within her power as a Justice to oversee the union between two men. Even more important to highlight, though, is the fact that she acted within the parameters of the official code of conduct that all Supreme Court Justices are beholden to:
Most of the code speaks to impartiality, the notion that judges should not be biased because of familial connections, personal grudges, financial interests, or other affiliations with the parties or the issues at hand that would compromise their ability to be impartial.
As per the Justices' code of conduct, the Justices are barred from making public statements "on the merits of a matter pending or impending in any court" barring instances where they find themselves explaining court procedures or sharing information for expressly educational purposes. Though some have speculated the meaning woven into Ginsburg's tone during her officiating remarks during the ceremony, she made no explicit endorsements or condemnations of same-sex marriage.
Listen to Moore's full tilt screed against Ginsburg AFTER THE JUMP…