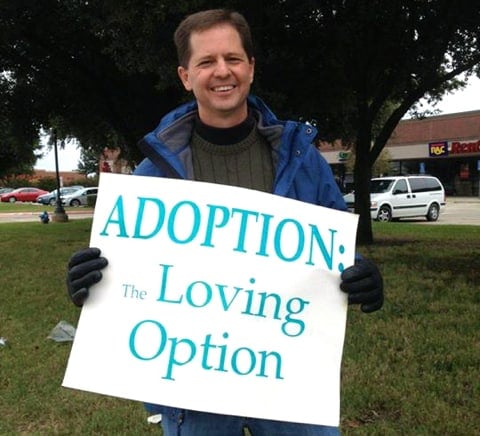 Texas LGBT advocates dodged another bullet Monday, when an anti-gay adoption amendment was derailed — at least for now — in the state House of Representatives. 
Last Thursday, an anti-gay marriage bill died in the Texas House when the deadline expired for the chamber to pass it. 
Four days later, GOP Rep. Scott Sanford (above) laid out an amendment on the House floor to allow state-funded, faith-based adoption agencies to discriminate against LGBT people based on "sincerely held religious beliefs." 
The Washington Blade reports: 
But after he proposed the amendment on the floor, Rep. Joe Moody (D-El Paso) raised a point of order on the vehicle bill on the basis the amendment wasn't properly filed. The Texas House agreed to the point of order, sending both the proposed amendment and the vehicle bill back to committee. … 

Sanford invoked the decisions of Catholic adoption agencies in Massachusetts and D.C. to halt operations there after marriage equality came to those jurisdictions, as well as Catholic adoption agencies in Illinois after the state legalized civil unions, saying the agencies were "forced" to take those actions. Each of agencies were already required not to discriminate against LGBT people on the basis of non-discrimination laws in those jurisdictions and halted operations on their own volition.

After the point of order against the anti-LGBT adoption measure was sustained, LGBT advocates claimed victory. It wasn't immediately clear whether the point of order was the last opportunity for the measure, or whether it could be revived at later time in some other fashion. The Texas legislative session continues until June 1.
The adoption amendment began as one of more than 20 anti-LGBT pieces of legislation in Texas this year, believed to be the most in the history of any state. However, with less than two weeks remaining in the legislative session, none of the anti-LGBT legislation has yet passed. 
That could change soon, though, as the House is set to take up the so-called Pastor Protection Act, ostensibly designed to protect pastors and churches from being forced to participate in same-sex weddings. The measure has already cleared the Senate, and anti-gay Gov. Greg Abbott has said he would sign it. 
As Matt Baume mentioned in his weekly Gay Marriage News Watch, pastors and churches already enjoy those protections under the First Amendment, as well as under the state's Religious Freedom Restoration Act. But the Texas bill is written so broadly that it could allow discrimination by religiously affiliated individuals who are acting in a secular capacity, such as justices of the peace. 
The so-called "Pastor Protection Act" could also serve as a vehicle for GOP Rep. Cecil Bell to try to introduce his anti-gay marriage bill — which died last week — as an amendment. 
Stay tuned.