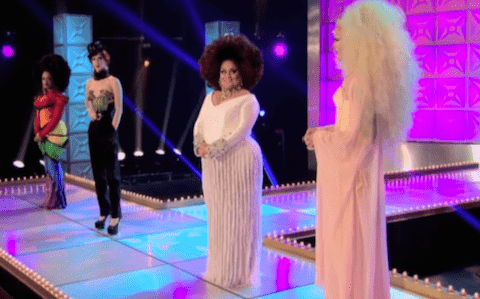 And then there were three. Well, first there were four. Then there were three. Last night's episode of RuPaul's Drag Race ru-vealed the top trio, but it also left me feeling a little underwhelmed with the gals we got left.
I don't blame the queens. I don't think this season featured less talented performers or otherwise inferior contestants. However, I do think it's time, seven seasons deep, to revisit the show's format. The simplest solution is making sure the challenges aren't so team heavy in the beginning. I understand it's an effort to maximize time while the contestant pool is still large, but it totally makes it difficult to let folks break away from the pack. We won't get tons of screentime with everyone, but the cream, as they say, will rise to the top. The other thing to consider is making sure there is a healthy mix of challenges (acting, comedy, singing, sewing, dancing, etc.) from the get-go. This season felt heavy on the scripted acting challenges, and, sorry writers, but punny scripts aren't nearly as entertaining as you think they are. Plus, they keep us from seeing what the girls are really like.
A more complicated approach would be to take inspiration from other aging reality shows and introduce a few gimmicks. We've already got All Stars, but what if next season was "Comedy Queens vs. Pageant" or "Mother Daughter Pairs" or "Queens of the World." Things like that have kept Survivor, the granddaddy of contemporary reality competition, feeling fresh. (Counterpoint: Top Model: British Invasion.)
But enough about the future, let's talk about what happened last night, AFTER THE JUMP …
No mini challenge this week, but there were some Drag Race traditions. It's time for the girls to lip sync for one of Ru's tracks and sit down with Mama Ru herself for a little Tic Tac lunch. The ladies learned choreography with Candis Cayne. Then, they had to act out a vignette in which they played three distinct parts — a boozy matriarch, a precocious little sister and an angsty teen. For the final runway, the queens were tasked with showing their best drag and to make the case why they deserve to be crowned America's Next Drag Superstar more than their competitors.
The Bitter Old Lady Brigade really earned that moniker throughout the episode as the mounting tensions of the looming finale drove Ginger and Kennedy to pile on Violet and Pearl. Though their styles seemed to be split into two camps, all four queens still felt like a mixed bag. Unlike last season, where any member of the top three felt worthy of the crown, this year's crop of queens never hit the same peaks.
Let's hash out the specifics in our rankings: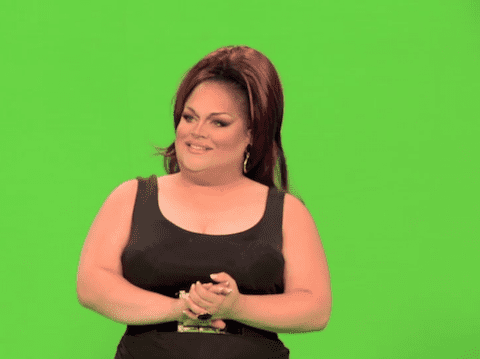 1. I hadn't really bought into the theories in the comments here and elsewhere about Ginger Minj purposefully holding back on her talents to give herself more of a character arc on the show. Until tonight. I did find it odd earlier this season how such a seasoned stage performer — in drag and in theater — could get by without knowing how to dance. Sure, her moves had a sort of hokey charm, but tonight they were definitely on the beat and conveyed all the right emotion. Blame it on editing, if you must, but I actually don't believe, in Ginger's case, the struggle is real. I know existing talent and experience shouldn't be a handicap in this competition, but it sort of hampers the whole "nerve" element Ru's looking for. I'm no longer rooting for Ginger, but I think the crown is hers to lose.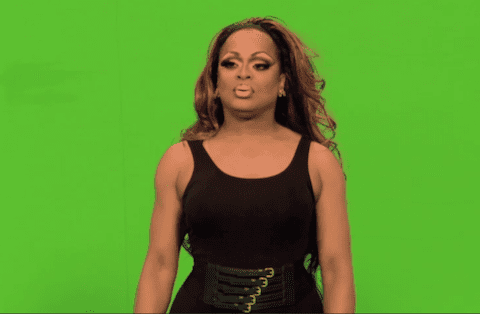 2. This episode was a good showcase of the good and bad behind Kennedy Davenport. It showcased her pageant-perfect glamour and her Tic Tac talk with Ru added some real depth to her story. If only we got to see more of that sweet, sensitive, resilient Kennedy throughout the series. Vulnerability is her best look yet. However, when she was amongst the other girls, Kennedy's claws came right back out. Her stubborn refusal to acknowledge the value the younger competitors' take on drag is really tiresome. That self-righteous edge is what keeps viewers (or at least me) from really falling for Kennedy, even when her performances truly knock me off my feet. I bet the other ladies were thrilled Kennedy was wearing that heavy gown for tonight's lip sync, keeping her from her usual runway acrobatics. Her elimination tonight felt like it came at the total wrong time. Her acting was fine in this challenge, her look was gorgeous (if a little predictable) and it finally seemed like she was ready to be a serious contender for the crown. Even though I have been saying for weeks that Kennedy had to go, I was actually surprised her time was up tonight.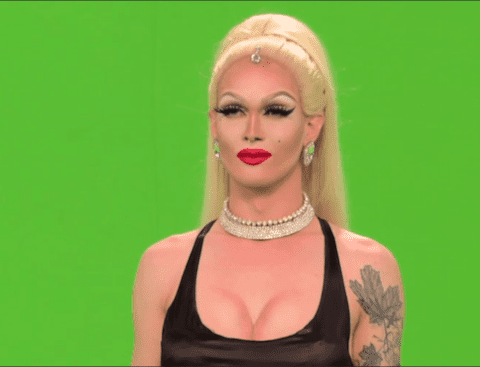 3. We're glad Pearl woke up, but we also got to side with Kennedy on that dancing. Good god, gurl, are your cha-cha heels full of concrete? I don't get it. She must know that doesn't look good, right? I was impressed, however, with her acting performance, especially the pill-popping mom. We got a peek beyond Pearl's #flahsayda attitude and into what makes her tick. While we didn't go into the specifics about Pearl's past, it was enough to recognize her fortitude. As Ross observed, Pearl's a weirdo. She's a lovable weirdo, but a weirdo all the same. Ru's comments about Pearl's star quality (and her passionate fanbase), make me wonder if Pearl might surprise us all with a win.
4. When it comes to Violet's final runway, I'm on Michelle Visage's side. After weeks of some real knock-out looks, tonight's androgynous ensemble did not feel like her best drag. The dancing was not great, nor was her acting. After building momentum for weeks, tonight was a flop. It felt as if the editing was leading us to a Violet departure, and none of her interviews or exchanges with Ru added enough to make her spot in the final three feel like a triumph.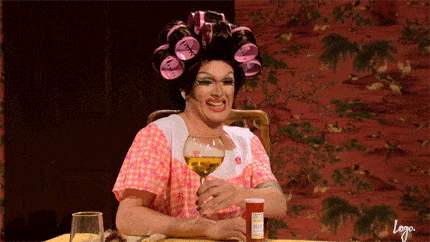 How would you rank the queens this week? Who are you hoping wins it all?