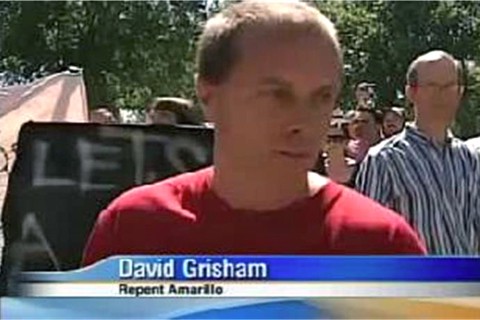 David Grisham, leader of the hate group Repent Amarillo, has filed a federal lawsuit against the city of Fort Worth alleging police violated his civil rights at last year's gay Pride festival, where he and his family were distributing anti-LGBT leaflets.  
Repent Amarillo, a militant evangelical group that describes itself as "the Special Forces of spiritual warfare," once called for a boycott of Houston over out lesbian Mayor Annise Parker's election, and has staged controversial protests outside a swingers club, liberal churches and gay bars.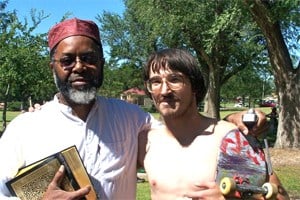 But Grisham is perhaps best known for his unsuccessful attempt to publicly burn a Koran in 2010, on the anniversary of the Sept. 11 terror attacks. The stunt was foiled by a skateboarder (right) who snatched the Muslim holy book away and told Grisham, "Dude, you have no Koran" — which later became the subject of a hilarious autotune video remix.
Grisham later ran for mayor, garnering 1 percent of the vote, and lost his job as a security guard at a nuclear power plant over the Koran-burning attempt. Since then, he's apparently been traveling the country to protest at gay Pride events. Last year at gay Pride in Pittsburgh, a police officer assaulted an apparently drunken woman who tried to attack Grisham. 
Grisham was undoubtedly hoping to cause a similar disturbance at Fort Worth's gay Pride in October, but police wisely wouldn't let him close to festival-goers. Now, Grisham — who's represented by the Center for Religious Expression — is claiming his free speech rights were violated. 
The Star-Telegram reports: 
The lawsuit alleges that two Fort Worth officers approached Grisham's wife and daughter as they handed out Gospel tracts at General Worth Square, where the festival was taking place.

The officers ordered the mother and daughter to leave under threat of arrest, stating that the gay pride association had a permit for the festival and controlled activity in the area, according to the lawsuit. The officers then escorted the mother and daughter to a sidewalk on the other side of 8th Street, the lawsuit states.

The lawsuit alleges that Sgt. Rachel DeHoyos later approached Grisham's wife to warn her to stay away from the area. Witnessing the interaction, Grisham said he went over to join in the conversation, telling DeHoyos that he took issue with the ban.
DeHoyos told Grisham he could stand only in a designated free speech zone, and when he insisted on going to the opposite side of the street, the sergeant found a festival organizer to issue a trespassing warning against him: 
[Tony] Coronado, a board member with gay pride association, said Grisham and his supporters had worn rainbow-colored T-shirt to apparently blend in at the festival and were handing out anti-LGBT literature.

He said the location where Grisham wanted to stand was covered as part of the group's event area by the city-issued permit.

"He was not denied his public speech," Coronado said. "He could have just as well stood in the next block, on that corner. Nobody prevented him from handing out those pamphlets."
Watch a 2010 interview with Grisham, as well as the autotune remix of the Koran-burning attempt, AFTER THE JUMP …