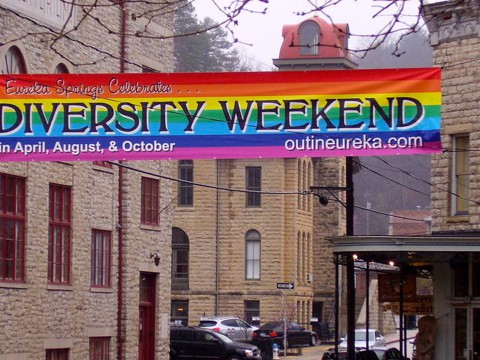 Voters in Eureka Springs, Arkansas — known as "the gay capital of the Ozarks" — will decide today whether to repeal the town's LGBT-inclusive nondiscrimination ordinance. 
The Eureka Springs City Council hurriedly approved the ordinance in February, hours after the Arkansas Senate passed a bill prohibiting cities from adding classes to nondiscrimination ordinances that aren't included in state law.  
Council members in the gay-friendly enclave hoped to send a message to state lawmakers and set up a possible future court challenge to the law. However, opponents of the Eureka Springs ordinance gathered the 96 signatures needed to place a repeal on the ballot. Even if the ordinance is upheld, the city will no longer enforce it after July 20, when the state law takes effect.  
Nevertheless, today's vote has plenty of symbolic significance and has drawn national attention. In addition to its designation as "the gay capital of the Ozarks," Eureka Springs is overlooked by the 66-foot-tall "Christ of the Ozarks" statue, the site of a play depicting Jesus' final days. 
The Associated Press reported this weekend: 
Opponents of the ordinance argue it's another step in a direction that they say threatens the future of the Great Passion Play, a seasonal outdoor production that draws about 50,000 people a year to a campus that includes a Bible museum and the statue of Jesus.

Randall Christy, the play's chief executive officer, has been among the most vocal opponents of the ordinance, arguing it would unnecessarily split the town and force churches to perform same-sex weddings.

"They have divided this city," Christy said.

But supporters of the ordinance say the pro-repeal campaign is one doing the dividing with a campaign they say is preying on voters' fears. Signs hung on residents' doorknobs urge voters to "keep our daughters safe in Eureka Springs bathrooms" and argue that sexual predators would use the law to falsely claim they're transgender.
The divide in Eureka Springs was evident last month when a pro-LGBT church was excluded from a "Celebrate Jesus Easter Parade." 
If voters uphold the ordinance, they will buck a recent trend in the region. Voters in Fayetteville, Arkansas and Springfield, Missouri, have recently repealed LGBT protections. 
More from the AP: 
Mayor Robert "Butch" Berry, who supports the ordinance, said he believes his town eventually will come together.

"It doesn't matter which side of the fence you're on, let those without sin cast the first stone," Berry said in Biblical terms. "There's been a lot of stones cast."