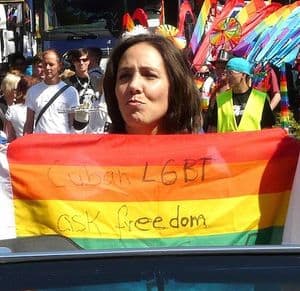 Cuba will hold a mass gay and transgender wedding ceremony this Saturday as part of its annual gay pride celebrations. The ceremony has been organized by Mariela Castro, LGBT rights activist and daughter of Cuban President Raul Castro. The mass wedding will be symbolic as same-sex marriage and civil unions are illegal in Cuba:
"We can't do a wedding, but we wanted to have a very modest celebration of love with some religious leaders," said Castro, head of the National Sex Education Center and a member of Cuba's National Assembly. "In the future we'll see what more we can do."
The participating Cuban religious leaders will be evangelical Christians, she said. Cuba's predominant religion is Roman Catholicism.
The ceremony was inspired by the mass wedding of more than 100 couples at the World Pride event in Toronto last June, Castro said.
Castro said she also wanted other Cubans to be able to share the experience she and her husband had of a spiritual but unofficial ceremony blessed by a religious leader.
Castro has long been known as an outspoken advocate for LGBT rights in Cuba. Last year, she defiantly voted against a proposed labor code that would have offered protections based on sexual orientation but not gender identity. The move was seen as historic given Cuba's autocratic one-party system where consensus rules.