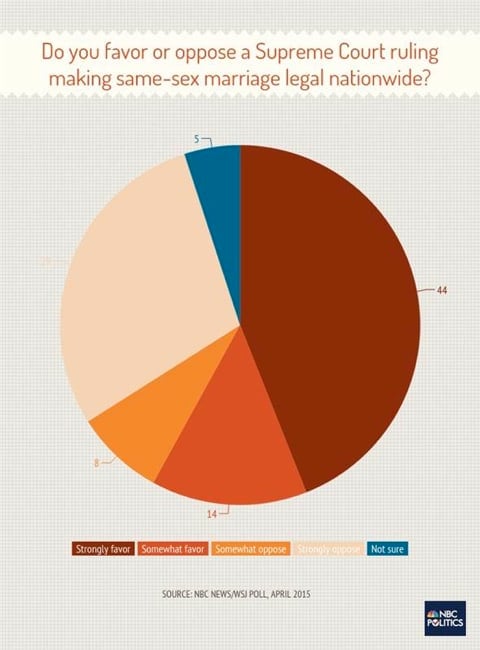 Yet another national poll shows that a convincing majority of Americans support marriage equality. 
This time, the question was asked in the context of the U.S. Supreme Court's upcoming ruling in Obergefell v. Hodges.
From NBC News' report on the poll it conducted with The Wall Street Journal:  
A total of 58 percent of Americans said that they favor a high court decision to eliminate bans against same sex marriage, with 44 percent of those saying they strongly favor such a result.

Thirty-seven percent of respondents said they oppose a court ruling in favor of the case's LGBT plaintiffs, with 29 percent said they strongly oppose it. 
Back in March, another NBC News/Wall Street Journal poll found that 59 percent of Americans supported marriage equality. And in April, a Washington Post-ABC News poll put the figure at 61 percent. 
The most interesting result from the latest poll may be that only 20 percent of respondents believe American society has gone too far in accepting homosexuality, while 44 percent believe it has not gone far enough. In 2000, when LGBT people had far fewer rights, 42 percent said society had already gone too far in accepting homosexuality, while 41 percent said it had not gone far enough. 
NBC News' report on the poll also features a great video mashup of Republican presidential candidates talking about their positions on same-sex marriage. Watch it here.