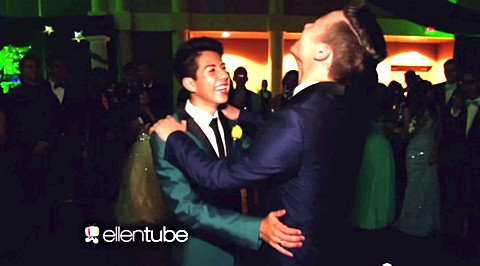 Last month we reported on Anthony Martinez, the gay student at Desert Oasis High School, who tweeted that he really wanted a guy as his date to prom. Jacob Lescenski, his straight best friend, stepped in with a "promposal" that might be the sweetest display of true friendship ever.
Shortly after their story went viral, Ellen invited the two best friends on her show to let more of the world know their story and to reward the couple with two $10,000 checks for making a difference.
Ellen's camera crew were on hand at the prom this past Saturday to see how the special night (and the duo's memorable/nerve-wracking slow dance) went down. Jacob's parents were also interviewed and what they had to say really put things in focus.
"For a lot of people it really touched them to not really worry too much what someone else might think," said Jacob's mom. "It's amazing that two juniors in high school could actually make the world think a little bit." added Jacob's dad.
Watch, AFTER THE JUMP…