U.S. District Court Judge John G. Heyburn, who ordered in February 2014 that out-of-state same-sex marriages be recognized in Kentucky and five months later struck down the state's gay marriage ban in a separate ruling, has died at age 66, Reuters reports: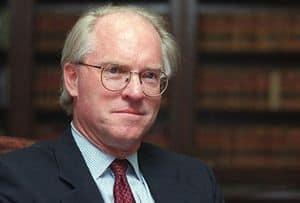 Heyburn died at his Louisville home surrounded by family after a years-long battle with cancer, the U.S. District Court for Western Kentucky said in a statement.
Here is a bit from Heyburn's equal protection analysis in Love v. Beshear:
The Court will begin with Defendant's only asserted justification for Kentucky's laws prohibiting same-sex marriage: "encouraging, promoting, and supporting the formation of relationships that have the natural ability to procreate." Perhaps recognizing that procreation-based arguments have not succeeded in this Court, nor any other court post-Windsor, Defendant adds a disingenuous twist to the argument: traditional marriages contribute to a stable birth rate which, in turn, ensures the state's long-term economic stability.
These arguments are not those of serious people. Though it seems almost unnecessary to explain, here are the reasons why. Even assuming the state has a legitimate interest in promoting procreation, the Court fails to see, and Defendant never explains, how the exclusion of same-sex couples from marriage has any effect whatsoever on procreation among heterosexual spouses. Excluding same-sex couples from marriage does not change the number of heterosexual couples who choose to get married, the number who choose to have children, or the number of children they have.
You can read our legal editor Ari Ezra Waldman's analysis of his ruling here.
Heyburn was appointed by President George H.W. Bush in 1992 at the recommendation of now-Senate Majority Leader Mitch McConnell.