The gay couple who shared a kiss on Dodger Stadium's Kiss Cam that garnered vocal support from the crowd and later quickly spread throughout the Internet have finally revealed their identity. Couple Steven and Rick Simone-Friedland, who committed to each other in 1999 and later legally wed in a Van Nuys courthouse in 2013, were asked by a camerawoman at the Los Angeles Dodgers game on Saturday if they wanted to appear on the Kiss Cam; Rick agreed, but Steven expressed some trepidation about the crowd's possible reaction: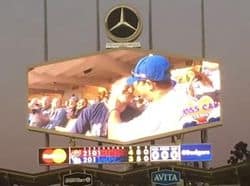 "I turned to my husband, I turned to Rick, and I said 'You know, this could go badly. This could not go well,' but then we did it, because we thought it would be just so fun to do, and then we heard the crowd — and that was really unexpected, and beautiful, and affirming.
"All we did was kiss. What made everyone's day was the crowd reaction … I don't think anybody was expecting that reaction … I kiss my husband every single day. That's not the big deal. The big deal is what happened immediately after. That's just the most amazing thing."
Video of the lovely couple's smooch went viral, with the two receiving national recognition including a special mention on Conan and appearing in an interview last night on Lawrence O'Donnell's program The Last Word. 
Watch the two discuss their experience before and after the smooch occurred with Lawrence O'Donnell, AFTER THE JUMP…
(Top photo via Facebook)