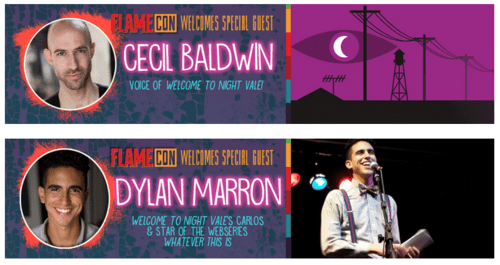 Flame Con, New York City's first LGBTQ-centric comic convention, is set to take place next month on June 13th, coinciding with NYC's Pride. More than just a mere comic book convention, the con's organizers are billing it as a gathering for queer folks of all fandoms and genres be they superheroes, magical girls, or high fantasy: 
Flame Con will be a one-day comics, arts, and entertainment expo showcasing creators and celebrities from all corners of LGBTQ geek fandom, including comics, video games, film and television. There will be thoughtful discussions, exclusive performances, screenings, costumes and more!
With about a month out, Flame Con's beginning to announce the lineup of panelists, artists, and writers that'll be presenting during the one-day event. Cecil Baldwin and Dylan Marron, voice actors for the hit podcast, Welcome to Night Vale will be joined by fashion-inspired illustrator Kevin Wada, and Jill Pantozzi, editor-in-chief of The Mary Sue. FlameCon will take place on June 13th at the Grand Prospect Hall in Brooklyn. Tickets for the event are still on sale and range from $10-25.