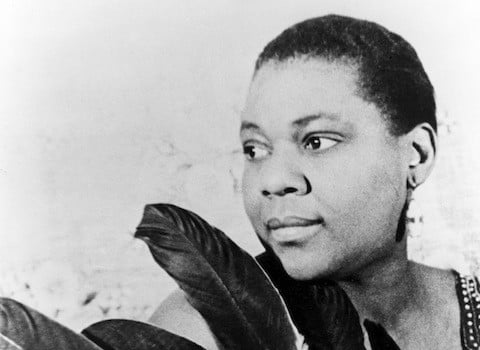 When you think of pioneering queer musicians, folks like Elton John, David Bowie, and Sylvester might come to mind. But think further back. Much further. Before we even had rock 'n' roll to speak of, blues artists were defying expectations (and often the law) to sing about their same-sex affairs.
Among the stars of the 1920s and 1930s, Bessie Smith is one of a few female blues singers that discussed lesbianism in her music. Nicknamed "The Empress of the Blues," Smith was known for her big voice, hit records and a bit for her scandalous affairs. It was said she took male and female lovers while on tour, particularly during her tumultuous marriage to Jack Glee. She allegedly barked at one of these female lovers, Lillian Simpson, "I got twelve women on this show, and I can have one every night if I want it."
Of the 160 recordings she made for Columbia throughout her career, three of her songs were inducted into the Grammy Hall of Fame for their historical significance, including "St. Louis Blues," "Empty Bed Blues," and her No. 1 hit "Downhearted Blues." Her music included references to her tastes for both sexes, including the line in her 1930 track "The Boy In the Boat," where she sings: "When you see two women walking hand in hand, just look 'em over and try to understand: They'll go to those parties—have the lights down low—only those parties where women can go."
Get a bigger taste of Smith's lasting legacy, AFTER THE JUMP …
Bessie Smith was born in Chattanooga, TN. After losing both of her parents, she began busking with her brother to earn money to support the family. From there, she became a dancer in a traveling performance troupe. She rose from chorus girl to recording artist to the highest paid black entertainer of her time.
Most of Smith's legacy is confined to her legendary recordings, but there is one film appearance as well. She starred in St. Louis Blues, directed by Dudley Murphy. It's notable for her performance of the film's title track, which was accompanied by an orchestra and showcased Smith's talents in an entirely new context.
Smith's life on and off the stage has inspired a number of other artistic works. J.D. Salinger wrote a story called "Blue Melody" about her, while Edward Albee's play, The Death of Bessie Smith focuses on the circumstances of the deadly car crash that took her life. Additionally, there's Bessie's Back In Town, which tells Smith's story along with her music. See a clip from the show above.
Later this month, HBO will debut a new film, Bessie, starring Queen Latifah in the title role. The film doesn't shy away from Smith's sapphic affairs, creating a fictional character, Lucille (Tika Sumpter), as a composite of some of Smith's female lovers. Bessie is directed by lesbian filmmaker Dee Rees, whose last feature film, Pariah, told the coming out story of an African-American teen girl.
Bessie will also focus on Smith's mentor, Ma Rainey (portrayed by Mo'Nique in the film), who is among a handful of blues singers that also engaged in same-sex affairs. Others include Gladys Bentley, who often performed in a full tuxedo, and Ethel Waters.
Are you a fan of Bessie's blues tunes?