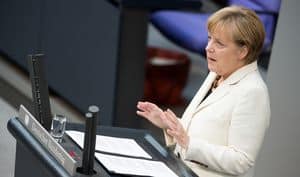 Following Ireland's historic referendum on gay marriage, which saw a 2:1 margin of victory in favor of equality, a spokesperson for German Chancellor Angela Merkel has swiftly put a kibosh on rumors that Germany might soon follow suit and make marriage equality the law of the land.
"Today was an important milestone in dismantling discrimination and the chancellor is pleased about that," [Angela Merkel's] spokesman Steffen Seibert said. "But same-sex marriages are not a goal of this government."
Once proud that their country was among the first in Europe to allow registered partnerships under the centre-left SPD-Greens government, many were perplexed Germany is now a laggard.
"Every country makes its own laws – some countries go one route while others go another," said Seibert, when asked about Ireland. "In Germany we'll take a path that suits Germany."
Germany did allow same-sex couples to enter into civil partnerships starting 2001, becoming one of the first nations in Europe to do so. Today 75% of Germans support legalization of same-sex marriage. However, many believe it is the conservatives within Merkel's party, the Christian Democrats, that are the main obstacle to moving marriage equality legislation forward. 
Justice Minister Heiko Maas, a Social Democrat, lamented Germany's lagging behind on the issue of equality: 
"Expanding rights for registered partnerships is another step toward giving same-sex unions the same rights as marriages," said Maas. "We haven't reached the goal yet."
Maas blamed resistance on the right in Merkel's party. "Unfortunately that wasn't possible with the conservatives."