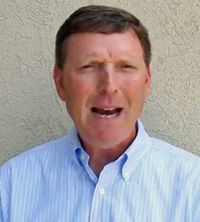 You may recall Bob Vander Plaats of The Family Leader as the Iowa conservative behind the campaign to oust pro-equality state Supreme Court justices back in 2010, or the guy behind a failed boycott of Starbucks over its pro-LGBT policies a few years back, or perhaps the activist charged with selling his 2012 presidential endorsement (which eventually went to Rick Santorum). 
But Vander Plaats is arguably best known for his group's anti-gay, vaguely pro-slavery "marriage pledge" that was used in a (failed) attempt to get the most extreme social conservative elected as the party's nominee in the 2012 election. 
"The Marriage Vow — A Declaration of Dependence Upon Marriage and Family", requires opposition to Sharia law, pornography, infidelity, and same-sex marriage, among other things.
The document also contained a section which said that African-American families were better off during the time of slavery, reading:
Slavery had a disastrous impact on African-American families, yet sadly a child born into slavery in 1860 was more likely to be raised by his mother and father in a two-parent household than was an African-American baby born after the election of the USA's first African-American President.
Vander Plaats now tells The Des Moines Register he has no plans to ask candidates to sign the pledge this election. 
"One of the reasons why we are not doing it this time is that we saw it as more of a distraction" than as a benefit, Vander Plaats said. "We thought that there were other ways to do this. You know, our opponents want to pick apart things that we do. We want to make sure that the candidates are full-spectrum, pro-family conservatives."
He added that as an alternative, The Family Leader is sponsoring a series of leadership forums for presidential candidates to presumably tout their anti-LGBT positions. 
Said Donna Red Wing, executive director of the LGBT group One Iowa:
"I think the world is changing, and I think folks like Bob Vander Plaats and The Family Leader, while they are not abandoning their very deep convictions around family and marriage, they have made a decision not to make it a litmus test for candidates they support. … I don't say this very often, but I have to applaud Bob Vander Plaats and The Family Leader for this small, but significant step,"
Watch Whoopi Goldberg whoop Michele Bachmann's ass for signing The Marriage Vow back in 2011, AFTER THE JUMP…