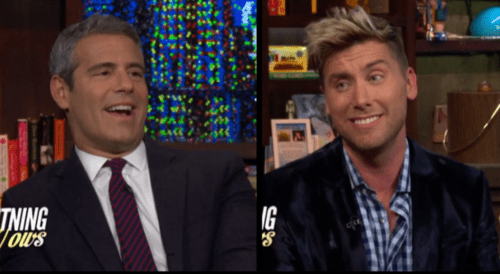 After Andy Cohen spilled the tea earlier this week that his most famous celebrity hookup was with Lance Bass, the former NSYNC member decided to clear the air about the hook up on his SiriusXM Dirty Pop radio show yesterday, US Magazine reports:
"First of all, I'm not going to tell you what I do in the bedroom," Bass prefaced, before going into his romantic history with the Bravo host. "Sex is a broad term…like 'Andy banged Lance' — when did he ever say that? This is an old story. Three years ago we told everyone we hooked up…Now it's getting into who did who? I can just tell you right now, there was no Andy D going in my B," Bass candidly admitted, before adding: "I'm not going to tell you what went down…but it's not what people are thinking."
He continued:
"It just happened that Andy was with me on this vacation. It was so nice and romantic and it was just a nice time. It was one of those things where I needed someone to hold onto." 
Bass, who is now married to Michael Turchin, added that he and Cohen are now "too great of friends" to ever hook up again. 
Watch Bass dish on his wedding on a recent Watch What Happens Live! appearance, AFTER THE JUMP…