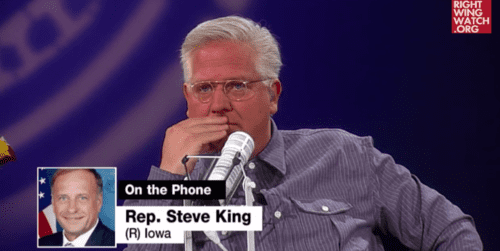 Speaking on Glenn Beck's radio program Wednesday, Rep. Steve King (R-IA) warned that a Supreme Court ruling striking down state bans on same-sex marriage "throws this country into an endless trauma."
"The public will not accept a huge decision of the Supreme Court that's not a decision of the people," said King as he likened a pro-equality ruling to that of Roe v Wade and Dred Scott v Sandford. "Do they really think that they can do what they're going to do to marriage, with one decision of the Supreme Court and society is going to accept that?"

Watch, AFTER THE JUMP…
Last month, King introduced a last ditch effort to stop the tide of equality with the "Restrain the Judges on Marriage Act" that would strip away the judicial branch's constitutional right to hear questions related to marriage. Openly gay Rep. Jared Polis later trolled King with a follow-up piece of legislation: "Restrain Steve King from Legislating Act."