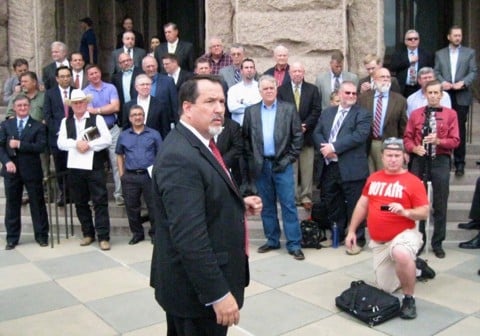 In an extreme example of how politics sometimes makes for strange bedfellows, LGBT advocates in Texas say they're prepared to endorse legislation championed by two anti-gay hate groups. 
Representatives from Equality Texas and the ACLU of Texas say as long as it's narrowly written, they're likely to support a bill protecting pastors and churches from being forced to participate in same-sex weddings. 
The bill is being pushed by the Texas Pastor Council and Texas Values, two prominent anti-LGBT groups. A few weeks ago, the Pastor Council brought in dozens of religious leaders to testify in support of the bill. (Executive Director Dave Welch is shown addressing the pastors on the Capitol steps above.) 
Of course, pastors and churches are already protected from being forced to participate in same-sex weddings under the First Amendment of the U.S. Constitution. 
The Texas Observer reports: 
"It's my job here at the ACLU to protect religious liberty, and if the bill is really about religious liberty, we're going to come out in favor of it," said Rebecca Robertson, legal and policy director for the ACLU of Texas. "There's not a single example of any clergy being forced to perform a wedding that they don't believe is consistent with their faith, but nevertheless we agree with the principle."

Robertson said other states have enacted similar protections in conjunction with marriage equality legislation or nondiscrimination laws. Texas is one of only 13 states where same-sex marriage is still banned, but the U.S. Supreme Court is widely expected to change that next month.

"There's a reason that we can all get together on this bill," Robertson said. "It's a principle we all agree on, and people can take comfort in the fact that their personal faith traditions are not going to be threatened. There's room for both religious liberty and equality. We have a big Constitution."
This same issue came to the fore this week when anti-gay U.S. Supreme Court Justice Antonin Scalia erroneously suggested during oral arguments that pastors could be forced to perform same-sex weddings if the court rules in favor of nationwide marriage equality. GOP presidential candidate Jeb Bush later repeated Scalia's claim. 
The Texas Pastor Council's Welch told the Observer he isn't surprised LGBT groups are prepared to support the bill, acknowledging it's redundant with existing constitutional protections.
Welch said his group will continue to push other "religious freedom" legislation that would establish a license to discriminate against LGBT people. More than 20 anti-LGBT bills have been introduced in Texas this year. But most are stalled amid opposition from business leaders, including the Texas Association of Business, which is the state's powerful chamber of commerce. 
From the Observer: 
"Some of the Republican leadership are going to have to face the music if they don't stand up for the principles upon which they were elected," Welch said. "If they're going to cater to the profit-at-all-cost corporate greed of the Texas Association of Business, which is basically standing on an empty platform of deception, they'll ultimately lose the next election. … If Apple is going to pull out of Texas because we're going to defend our religious freedom that has produced the same climate that brought them here to begin with, then frankly, move back to California."