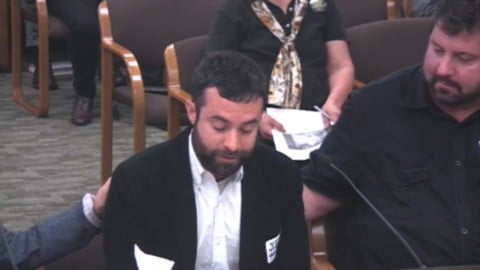 The state-level push to ban gay conversion therapy continues to gain momentum in the wake of President Barack Obama's watershed announcement that he supports outlawing the discredited practice. 
Last week, the New York State Assembly passed a ban on gay conversion therapy. And this week, an Oregon Senate committee voted 3-2 to advance a similar bill. The Statesman Journal reported on the the committee hearing:  
"When you are in conversion therapy, you are taught that you have a sickness, a pathology, and that you need a cure," Portland resident Paul Southwick (above) said, choking back tears. "When the cure never comes, you are left even more anxious, hopeless and ashamed than when you started." … 

Opponents say the state shouldn't interfere in family and religious matters.

"If we force kids to live homosexually if they don't want to, that puts them in harm's way," said Jayson Graves, head of the Colorado counseling organization Healing for the Soul, who says conversion therapy worked on him.

"We're not celebrated in this culture. We don't have television shows about us saying look how great it is to be ex-gay," Graves told the committee.
The measure now moves to the full Senate. If it passes, Oregon would become only the fourth jurisdiction in the US to ban gay conversion therapy, after California, New Jersey and Washington, D.C. Similar bills have been introduced in at least 18 states, but have stalled in Colorado, Hawaii, Maryland and Virginia. 
Watch Southwick's powerful testimony and the entire Oregon Senate committee hearing shortly after the 21:00 mark in the video, AFTER THE JUMP …(warning: autoplay)