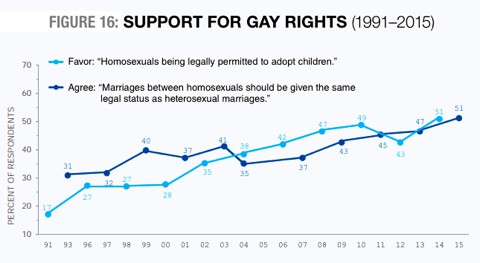 A week after Houston's Equal Rights Ordinance finally took effect, a new survey shows a majority of residents in the nation's largest solidly red metropolitan area now support marriage equality. 
Houston is the nation's fourth-largest city, but the survey covers three counties that account for most of the nation's fifth-largest metropolitan area. All three counties — Fort Bend, Harris and Montgomery — were swept by Republicans in November 2014 elections.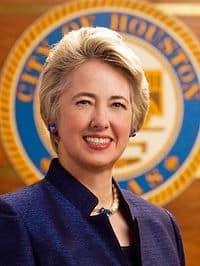 The region covered by the survey also includes the district of anti-gay GOP state Rep. Cecil Bell, who's filed multiple bills seeking to undermine a U.S. Supreme Court ruling in favor of marriage equality. Of course, Houston is also home to out lesbian Mayor Annise Parker, who married her longtime partner in California last year. 
Rice University's 34th Annual Kinder Houston Area Survey, released Thursday, found that 51 percent of Houston-area residents now believe, "Marriages between homosexuals should be given the same legal status as heterosexual marriages." That's up from 35 percent in 2004. 
Meanwhile, 52 percent of those surveyed now believe homosexuality is morally acceptable, up from just 21 percent in 1997 — which happens to be the same year Parker was first elected to the City Council.  
From the survey: 
Meanwhile, on virtually all the relevant questions asked over the years, support for gay rights has increased consistently. In alternating years, for example, the survey participants were asked about the statement, "Marriages between homosexuals should be given the same legal status as heterosexual marriages." The numbers in agreement reached a majority of 51 percent in this year's survey — up from 43 percent in 2009, 37 percent in 2001 and 31 percent in 1993. 

Similarly, as we reported last year, the percent who were in favor of homosexuals being legally permitted to adopt children grew from 17 percent in 1991, to 29 percent in 2000, to 38 percent in 2004, to 43 percent in 2012, and to 51 percent in 2014. The number of area residents who consider homosexuality to be "morally acceptable" also has grown consistently, from 21 percent in 1997, to 31 percent in 2005, to 45 percent in 2011 and to 52 percent in this year's survey. 
Recent polls show that anywhere between 42 percent and 48 percent of Texas voters now support marriage equality. However, most state and federal lawmakers represent gerrymandered districts in which Republican primary voters, who are significantly more conservative, determine the outcome of elections.