John Diehl, Missouri's anti-gay Speaker of the state's House of Representatives, has been caught in a sexting scandal with an unnamed college freshman intern, admitting to displaying "poor judgment" after first denying any such 'sexts' ever took place. Diehl is married with three children.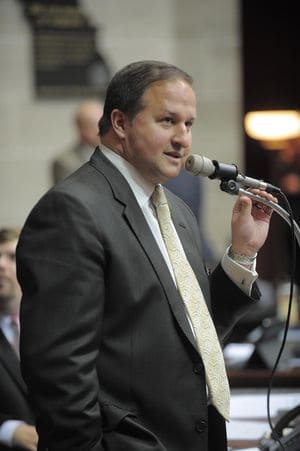 The conversations unveil a flirty rapport and suggest an intimacy between arguably the state's most influential lawmaker and a young woman taking some pleasure in a secret association.
The texts show occasional efforts by Diehl and the intern to meet in person. They range from mundane chatter, about boring meetings and dreading speeches, to the more sexually suggestive.
Diehl initially declined to comment. But about six hours after the story was posted online, he issued a statement.
"I take full responsibility for my actions and am truly sorry to those I let down," Diehl's statement said. "I apologize for the poor judgment I displayed that put me and those closest to me in this situation. I also regret that the woman has been dragged into this situation. The buck stops here. I ask for forgiveness. I will begin immediately working to restore the trust of those closest to me, and getting back to the important work that is required in the final days of session."
Multiple sources helped The Star confirm that the screenshots of the texts, which show Diehl's business cellphone number, originated from the intern's smartphone. The text conversations also included photographs of each of them. And others who know Diehl well said they recognized the language and tone of the conversations from their own text exchanges with him.
The screenshots of the conversations between Diehl and the intern also reveal that the intern at one point saved Diehl's number in her phone as "Frank Underwood."
Earlier this year, Diehl and the president pro-tempore of the state Senate filed an amicus brief in defense of the state's anti-gay-marriage amendment, leading the Missouri Family Policy Council, the state affiliate of the Family Research Council, to praise the speaker "for demonstrating moral leadership and true integrity in standing up for the sacred institution of marriage and the family values of the people of Missouri." The state affiliate of the Southern Baptist Convention thanked him for "fighting to defend biblical marriage." 
Diehl also co-sponsored a bill in 2012 that would have banned gay-straight alliances in Missouri.
You can read some of the textual conversations for yourself,
AFTER THE JUMP…