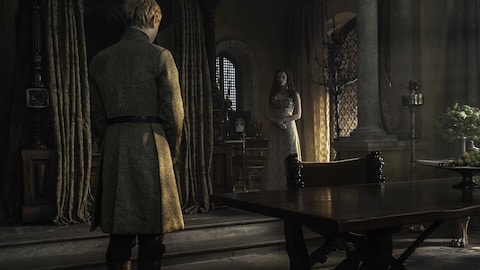 For all the talk of Westeros, is it just me or is Essos where all the excitement seems to be?
Last night's episode, "Sons of the Harpy," had some heart-pounding action, but also a lot of good character development for folks like Stannis (Stephan Dillane) and even a bit for Ellaria Sand (Indira Varma). If there was a recurring theme between storylines, it was the bond of fathers and daughters. We had an excellent scene with Stannis and Shireen (Kerry Ingram), plus there were Oberyn's daughters seeking vengeance and Jaime (Nikolaj Coster-Waldau) going after Myrcella (Nell Tiger Free).
By the episode's end, two characters' lives are in question. Find out what went down, AFTER THE JUMP …
Meanwhile, In Dorne …
Jaime and Bronn (Jerome Flynn) arrive in Dorne ready to stealthily rescue Jaime's daughter/niece. They're not doing great with the whole stealthy part of the plan. After sending up a smoke signal when they finished cooking up a delicious snake breakfast, four Dorne partrolmen descend upon them. Bronn quickly dispatches with the majority of their attackers, but Jaime holds his own against his man, using his gold hand to catch his opponent's sword.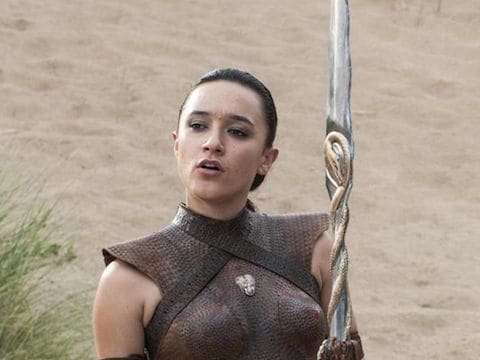 Elsewhere in Dorne, Ellaria Sand is still seething over the death of her lover. She sits Oberyn's daughters down and lays out her plans to get revenge on the Lannisters by harming Myrcella. The three girls are on board, but they have some news of their own to share. They captured the captain that smuggled Bronn and Jaime into Dorne. A lot of thanks he gets for the info. First he gets buried in the sand with his head stuck in a bucket of scorpions. Then he gets a spear right through the noggin. These ladies mean business. The race is on to see who will reach Myrcella first!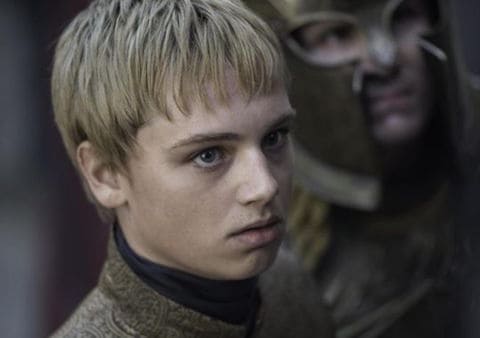 Meanwhile, In King's Landing …
Cersei (Lena Headey) is having a little sit down with the High Sparrow (Jonathan Pryce). Because they are SUCH good friends, the Queen Mother is going to do her buddy a solid and militarize his group of Sparrows. And while he's busy dispensing justice to the sinners of King's Landing, why doesn't he start with that homo Ser Loras (Finn Jones)? The Sparrows are happy to oblige, arresting Ser Loras and setting Margaery (Natalie Dormer) on the rampage. She runs to Tommen (Dean-Charles Chapman) to get him to release her brother. He, in turn, goes to his mother who is all NOT MY PROBLEM. So, he goes to the see the High Sparrow himself. Only thing is, the High Sparrow is very busy praying, and, now that his men are all conveniently armed, they can do things like turn away the King when he arrives unannounced on their doorstep. The Queen does not take this news well, opting to return to Highgarden to be with her family.
Meanwhile, At the Wall …
Jon Snow (Kit Harrington) is in the midst of the Night's Watch pledge drive. He's writing to all the lords in the Seven Kingdoms to send men in exchange for a Night's Watch branded tote bag, or whatever. He's interrupted by Melisandre (Carice van Houten), who promptly opens her dress to reveal all of the nothing she's wearing underneath. Sorry for her, but Jon has an oath to the Night's Watch (and lingering love for Ygritte). On her way out, the Red Woman echoes Ygritte (Rose Leslie) when she says "You know nothing, Jon Snow." Coincidence, or one of her visions?
Stannis, in the meantime, is off being the goddamn father of the year. Granted, that's a low bar on this show, but still! He tenderly tells his daughter about how she got the Greyscale (it was from a doll he bought her), and how he moved heaven and Earth to cure her so she wouldn't have to live in isolation. "You did not belong across the world with the bloody Stone Men … You are my daughter." Aw! Maybe he'd be an alright king, after all.
Meanwhile, In Winterfell …
Lord Baelish (Aidan Gillen) reveals his master plan to Sansa (Sophie Turner). He knows Stannis is on his way to take Winterfell, at which point, he'll likely want to leave it in the care of Sansa (the last living Stark, as far as most people know). She'll be his Wardeness of the North. Or, on the flip side, if he loses, she can just go ahead and get married to Ramsay (Iwan Rheon) and manipulate him like a pro. The Baelish smooches Sansa and it's creepy. Gross, Uncle Baelish.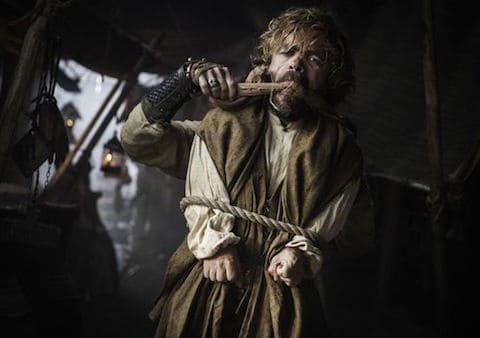 Meanwhile, En Route to Mereen …
Tyrion (Peter Dinklage) uses his experience as the youngest child to annoy the living daylights out of Jorah Mormont (Iain Glen) until he loosens his gag. That's when they realize that Jorah kidnapped Tyrion to take him where he was going to go anyway. A "waste of a good kidnapping," as Tyrion describes it.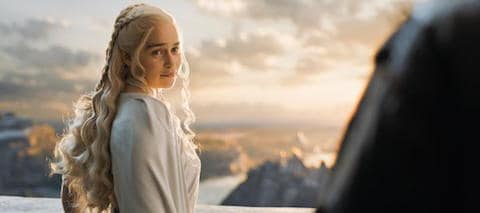 Meanwhile, In Meereen …
They are still trying to make the fighting pits happen. Stop trying to make the fighting pits happen! They're not going to happen! That's the least of Daenerys (Emilia Clarke)'s troubles though, as the Sons of the Harpy launch an all-out assault on the Unsullied. They lure the Unsullied into some close quarters and attack. It's down to just Grey Worm (Jacob Anderson), and it's not looking good. But then! It's Barristan Selmy (Ian McElhinney) to the rescue. He and Grey Worm manage to defeat their foes, but not without a good amount of injuries of their own. As the episode closes, they both collapse to the ground, their fates unknown.
What did you think of tonight's episode?