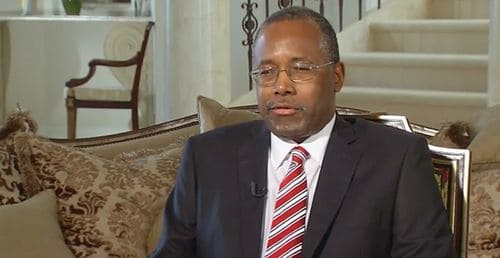 Dr. Ben Carson, a conservative neurosurgeon who has been designated an "anti-LGBT extremist" by the Southern Poverty Law Center, is throwing his hat into the ring of those seeking the GOP nomination for President of the United States.
He told WJLA in an interview Sunday night that he's planning to run. Carson has scheduled a more official announcement that will take place at 10 am Monday.
Watch his Sunday night statement, AFTER THE JUMP…
Carson is among the leaders of the GOP candidates in terms of animus toward the LGBT community. Here's why.
1. THINKS BEING GAY IS A CHOICE:
In April, Carson  promised not to talk about LGBT issues any more following a disastrous Chris Cuomo interview in which he claimed that it's possible to prove that homosexuality is a choice because some people are gay when they leave prison:
"Because a lot of people who go into prison go into prison straight — and when they come out, they're gay. So, did something happen while they were in there? Ask yourself that question."
2. OPPOSES BANS ON HARMFUL 'CONVERSION THERAPY':
Carson has also called the LGBT community the "flavor of the day" and does not support bans on harmful "conversion therapy" saying the issue "should be left to therapists and to individuals."
3. SUPPORTS ANTI-GAY 'RELIGIOUS LIBERTY' BILLS:
Carson is firmly in support of various anti-gay "religious freedom" bills being pushed around the country:
"It is absolutely vital that we do all we can to allow Americans to practice their religious ways, while simultaneously ensuring that no one's beliefs infringe upon those of others. We should also serve as champions of freedom of religion throughout the world."
4. JOKED ABOUT CHRISTIANS HARMING GAYS:
In January, when discussing the "religious liberty" issue, Carson suggested that gays might want to buy their cakes from a non-Christian baker, lest they be poisoned:
"What I have a problem with is when people try to force people to act against their beliefs because they say 'they're discriminating against me.' So they can go right down the street and buy a cake, but no, let's bring a suit against this person because I want them to make my cake even though they don't believe in it. Which is really not all that smart because they might put poison in that cake."
5. SUPPORTS THE REMOVAL OF PRO-EQUALITY JUDGES AND JUDICIAL EFFORTS TO OBSTRUCT GAY RIGHTS:
Carson also defended Alabama Chief Justice Roy Moore's efforts to obstruct the implementation of marriage equality in Alabama against the orders of a federal court.
Carson said Moore ""understands the importance of preserving states' rights in the modern post-Civil War world in which we live."
Carson also believes Congress should remove judges who rule in favor of same-sex marriage.
6. HAS COMPARED GAYS TO PEDOPHILES AND PEOPLE WHO HAVE SEX WITH ANIMALS:
Carson has compared gay people with pedophiles and people who have sex with animals.
"Marriage is between a man and a woman. It's a well-established pillar of society and no group, be they gays, be they NAMBLA, be they people who believe in bestiality—it doesn't matter what they are, they don't get to change the definition."
7. BELIEVES LGBT ADVOCATES ARE THE ENEMIES OF AMERICA:
He said that gay rights activists are "hateful people" and "the enemies" of America because they "try to divide everybody up" and "incite people to anger and to hatred."
8. OPPOSES MARRIAGE EQUALITY AND WARNS IT WILL BRING WORLD'S DESTRUCTION:
He has said that gay marriage "is a finger in your eye to God" and a Marxist plot to impose a "new world order." In America the Beautiful: Resdiscovering What Made This Nation Great, a 2012 book written with Candy Carlson, he wrote:
"[I]f we can redefine marriage as between two men or two women or any other way based on social pressures as opposed to between a man and a woman, we will continue to redefine it in any way that we wish, which is a slippery slope with a disastrous ending, as witnessed in the dramatic fall of the Roman Empire."
Watch Carson make his pre-announcement announcement: