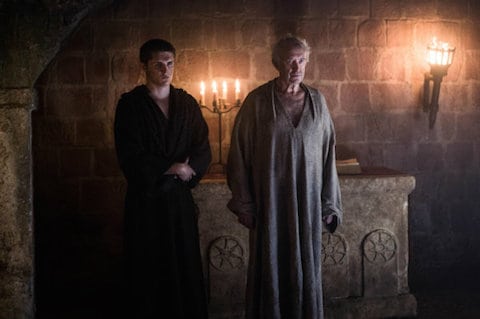 Tonight's episode of Game of Thones, "The Gift," felt a bit like a whirlwind tour of Westeros and Essos, making several stops along the way in a very dense hour. However, the blistering pace was worth it, because there were some big happenings that should send us barreling into a full-throttle final few episodes of the season.
Worlds collide and crowns crumble, AFTER THE JUMP …
Meanwhile, At the Wall …
Farewell, Maester Aemon (Peter Vaughan). The elder Night's Watchman went gently into that good night after some near-death ramblings about his brother, Aegon "Egg" Targaryen. With one less ally hanging around Castle Black, some of the boys of the Night's Watch think it's a good time to go after Gilly (Hannah Murray). Two less-than-honorable Crows try to attack her, but Sam comes to the rescue. He takes a beating, but refuses to stay down. Just when it seems like he's going to be beaten to death, Ghost the direwolf shows up and the ne'er do wells scurry off. Gilly makes Sam promise to care for Little Sam if anything were to happen to her. As a thank you(?), she takes Sam's virginity. With Jon Snow (Kit Harrington) away, how much longer can Sam and Gilly hang around before it's time for them to strike out for their own adorable sitcom spin-off like the Kevin James and Leah Remini of the North?
Meanwhile, In Winterfell …
Ramsay (Iwan Rheon) is making brutalizing Sansa (Sophie Turner) a nightly ritual. She pleads with Theon (Alfie Allen) to light a candle in the broken tower to signal her allies. But, Theon, still in full Reek mode, instead rats her out to Ramsay. The twisted Bolton bastard then finds that kindly old lady who originally offered her aid to Sansa and does that thing Ramsay loves to do when he flays someone and then hangs them up and then trots folks out to admire his handy work. Sansa gets the message, but let's not forget Brienne (Gwendoline Christie) is still just around the corner.
There's a winter storm that's worrisome to Stannis Baratheon (Stephen Dillane) and his men. If they don't march on Winterfell now, they'll have to wait for winter to be over, and who knows how long that will be? Stannis can't retreat from another battle. He seeks counsel from Melisandre (Carice van Houten), but her only recommendation is to use more royal blood for one of her spells. This time she suggests taking it from Stannis' daughter, Shireen (Kerry Ingram). Stannis may easily toss aside his wife for the Red Woman, but not his daughter.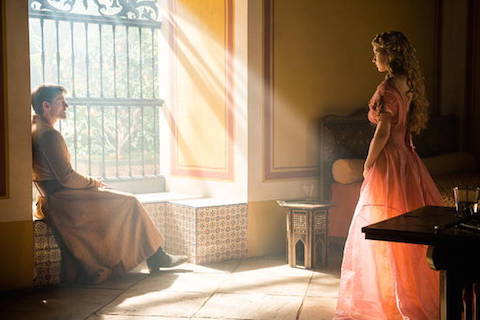 Meanwhile, In Dorne …
Myrcella (Nell Tiger Free) throws a typical teenage tantrum at her uncle/father Jaime (Nikolaj Coster-Waldau). She's happy in Dorne, and she loves the Prince, and she isn't going anywhere, thank you very much.
Elsewhere, in the cells, Bronn (Jerome Flynn) is serenading the Sand Snakes with a little tune. That's when one of Oberyn's daughters reveals what we've been speculating: Her blade, which barely nicked Bronn, was coated in poison. Luckily, she finds him handsome and a good singer, so she slips him an antidote. That was a close one.
Meanwhile, In Meereen …
Jorah (Iain Glen) and Tyrion (Peter Dinklage) arrive at the fighting pits. Dany (Emilia Clarke) is suffering through her visit to the pits. All the blood and guts and gore are a bit much for Khaleesi, but, before she can leave in disgust, Jorah enters the ring, quickly disposes of the competition and reveals himself. She's not entirely thrilled to see him (she sure can hold a grudge), but he's brought a gift (for the Queen and viewers): Tyrion. Finally, some real contact between Dany and the Lannisters!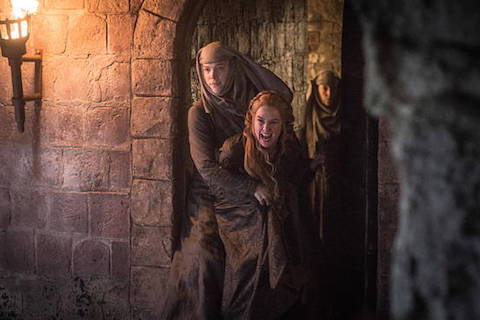 Meanwhile, In King's Landing …
Lady Olenna (Diana Rigg) is still trying to pull some strings with the High Sparrow (Jonathan Pryce). Unfortunately, no amount of gold or influence is going to dissuade him from doling out some justice to her grandchildren.
Her luck hasn't completely run out, though. Littlefinger (Aiden Gillen) has a gift for her. It's not dissimilar from the one he gave Cersei (Lena Headey): It's a handsome young man! (Can I get on Littlefinger's holiday list?)
Unaware of Baelish and Olenna's alliance, the Queen Mother is just loving seeing Margaery (Natalie Dormer) suffer. She visits the Queen in her cell, brings her some venison and assures her they are doing everything they can to help her. No, really, they are. Margaery may be filthy and hungry, but she's not a fool. She lets Cersei know exactly what she thinks of her.
Still, Cersei is feeling quite proud of herself when she visits the High Septon to tell him that Margaery's accommodations look just fantastic to her. That's great, since Cersei is going to be next in a cell. That's right, the handsome man Baelish gave to Olenna is Lancel, whom Cersei had bedded in the past. The Sparrows don't look too kindly on incest, so imagine what might happen if they found out about her and Jaime?
What did you think of tonight's episode?