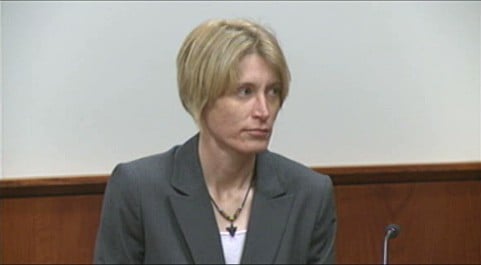 Charlie Rogers, the Lincoln, Nebraska lesbian who was found guilty of faking a hate crime for claiming she was attacked by three men who broke into her home and carved "dyke" into her stomach before setting her house ablaze, has been sentenced to 90 days in jail for violating probation, the Lincoln Journal Star reports:
Lancaster County Judge Thomas Fox sentenced Charlie Rogers Friday afternoon and gave her credit for seven days she served in jail in 2013.
Rogers, 36, was in court for not reporting to jail on Jan. 15 to finish a 90-day jail sentence, one of the orders of her probation.
During the Friday hearing, the former University of Nebraska basketball standout said she didn't mean to violate the conditions of her probation.
"Please let me go home," Rogers said to the judge, choking back tears. "I was scared."
In March, she admitted that she violated her probation, and Fox ordered an investigation into her past so he'd have the information he needed to sentence her. Friday, he resentenced Rogers on her original charge of lying to police, which meant he could have given her anything from a warning to more probation to a 1-year jail sentence.
The AP adds an attorney for Rogers said Friday she had already applied to do the jail time on house arrest. If her request is denied, she must report to jail May 29.