A bill allowing public officials to opt out of marrying same-sex couples for "sincerely held religious" objections has cleared the state House and now heads to Governor Pat McCrory's desk.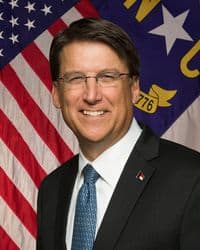 McCrory, who expressed concerns about the proposal back in March saying "What is the problem they're trying to solve?" has yet to indicate whether he'll veto the bill, sign it, or let it become law without his signature.
The News & Observer reports:
If McCrory breaks out the veto stamp, Thursday's House vote tally indicates that a three-fifths majority to override a veto might prove challenging for the Republican leadership. About 61 percent of the legislators voting Thursday supported the bill, but 10 House members were absent or didn't vote.
McCrory made his position on Senate Bill 2 clear during a Charlotte radio interview in March: "I don't think you should have an exemption when you took an oath to uphold … the constitution of North Carolina," he said.
If the governor doesn't veto the bill within 10 days, it will automatically become law.
LGBT groups are blasting the bill's passage and calling urging for a veto.
"At a time when the N.C. General Assembly should be taking up job protections that apply to all North Carolinians, legislative leaders have instead chosen to waste precious time and resources giving a few anti-LGBT North Carolina magistrates a license to discriminate against taxpaying North Carolina families," said Equality NC Executive Director Chris Sgro in a statement. "We call on Gov. McCrory, who has already opposed the premise of this bill, to veto this discriminatory legislation and send a strong message that no public official is exempt from the constitution they've sworn to uphold."
No couple should have to spend their wedding day going to different courthouses hoping they meet a magistrate's religious criteria #StopSB2

— ACLU-North Carolina (@ACLU_NC) May 28, 2015
Couples getting married in #NC should spend their happy day w/ friends, family and loved ones – not in a maze of government offices #StopSB2

— ACLU-North Carolina (@ACLU_NC) May 28, 2015