North Carolina Gov. Pat McCrory has announced he will veto a bill passed by the state legislature today that would allow public officials to opt out of marrying same-sex couples for "sincerely held religious" objections, Raleigh's WTVD reports: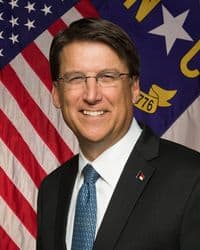 "I recognize that for many North Carolinians, including myself, opinions on same-sex marriage come from sincerely held religious beliefs that marriage is between a man and a woman. However, we are a nation and a state of laws. Whether it is the president, governor, mayor, a law enforcement officer, or magistrate, no public official who voluntarily swears to support and defend the Constitution and to discharge all duties of their office should be exempt from upholding that oath; therefore, I will veto Senate Bill 2," said McCrory.
The News and Observer adds:
With McCrory planning a veto, Thursday's House vote tally indicates that a three-fifths majority to override a veto might prove challenging for the Republican leadership. About 61 percent of the legislators voting Thursday supported the bill, but 10 House members were absent or didn't vote.
McCrory made his position on Senate Bill 2 clear during a Charlotte radio interview in March: "I don't think you should have an exemption when you took an oath to uphold … the constitution of North Carolina," he said.
Same-sex marriage was legalized in North Carolina last year.