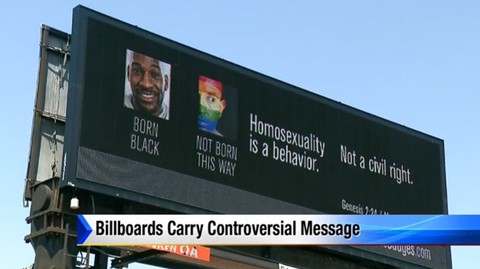 Faith 2 Action, Americans for Truth About Homosexuality, Judicial Action Group, American Family Association of Pennsylvania and Conservative Republicans of Texas are among groups behind a campaign making itself known on billboards around Michigan in advance of the U.S. Supreme Court ruling on marriage.
The billboards advertise a website called 'Restrain the Judges' which urges people to send a 'Restraining Order' to every member of the Senate and the House along with each of the United States Supreme Court Justices.
This is the letter: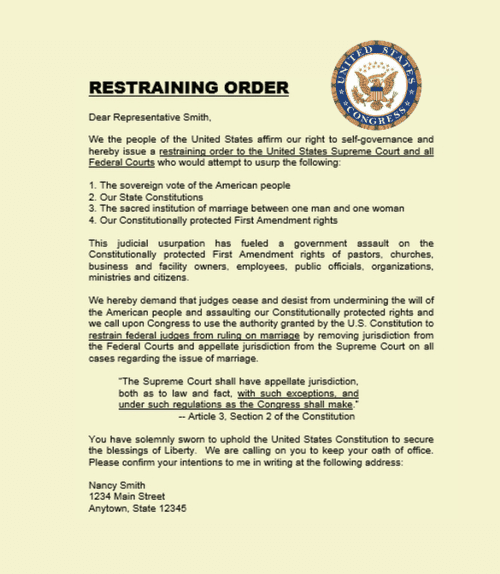 As the website notes, supporters can choose among three hateful payment options for their letters:
For $9.95: Eleven "Restraining Order" Letters will be sent on your behalf to Speaker John Boehner,
Senate Majority Leader Mitch McConnell, and The Supreme Court Justices .
For $29.95: 307 Personalized Restraining Orders to every Republican in Congress and the U.S. Supreme Court Justices.
For $49.95: 544 Personalized Restraining Orders to ALL members of Congress & the the U.S. Supreme Court Justices.
As you may recall, the bill that Rep. Steve King (R-IA) introduced in April in a last-ditch attempt to stop gay marriage ahead of the SCOTUS ruling, was called the "Restrain the Judges on Marriage Act."
Watch the news report from WDIV Detroit on the hate campaign, AFTER THE JUMP…