The Republican National Convention is gearing to approve a resolution reaffirming the party's support for controversial "religious freedom" proposals generally seen as backlash bills in the wake of growing LGBT rights in many states.
TIME reports: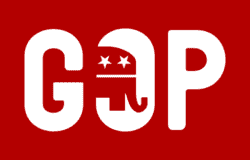 The Resolution Affirming Religious Freedom Restoration Acts (RFRA) passed through the RNC's resolutions committee Wednesday during the RNC's spring meeting in Scottsdale, Ariz., and will be voted on by the full 168-member governing body Friday. The party traditionally votes on all resolutions as a package, and the RFRA resolution is expected to pass with little or no opposition.
"The Republican National Committee stands firm in upholding natural, human, constitutional, and, under the RFRA, statutory rights of religious freedom," the resolution states.
During the Indiana RFRA backlash last month, 2016 GOP presidential hopefuls all lined up to defend the discriminatory law.
Last week, it was reported Sen. Rob Portman was being eyed by GOP establishment to reshape the party's anti-gay marriage platform. 
Read the full resolution, AFTER THE JUMP…
RNC RFRA Resolution by Zeke Miller