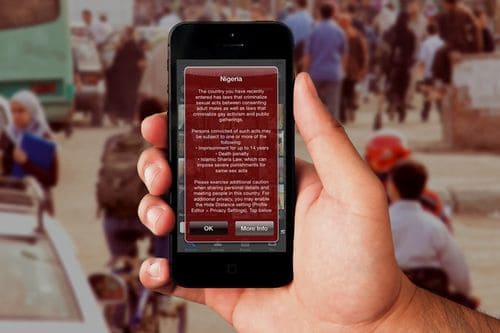 Dating/hookup app Scruff is rolling out a new alert feature this week that warns travelers when they're entering a country where homosexuality is criminalized reports The New York Times. Eric Silverberg, co-founder of Scruff, implemented the new alert system after authorities abroad began using the app to lure, trap and incarcerate gay men using fake profiles.
Said Silverberg:
"This feature of the GPS-enabled app that was so exciting for us here in the United States, being able to meet guys nearby, became something of a liability for our members that were in other regions and other countries where homosexuality is criminalized."
Scruff formed a partnership with ILGA, which produces an annual State Sponsored Homophobia Report, to create a webpage that lists countries with laws that criminalize homosexuality. A survey conducted by Silverberg showed that 100,000 Scruff users from the U.S., Australia and Britain recently traveled to countries with anti-gay laws over a 30-day period.